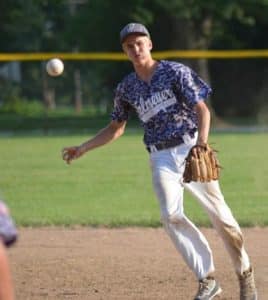 The Valmeyer Post 901 Junior American Legion baseball team has made great strides in its third season, and the icing on the cake will be a trip this weekend to the state tournament.
Valmeyer placed third in the Fifth Division Tournament played over the weekend in Metropolis, winning four of five games. The top three teams, Alton, Salem and Valmeyer, advanced to the eight-team state tournament to be played in Forsyth, which is located near Decatur.
Post 901 advanced to the division tourney by virtue of placing second to Alton in the district tourney played earlier this month at Borsch Park.
Featuring several key members of a high school team that won conference and regional titles this past spring, Valmeyer (28-13) opened division tourney play with a win over Pinckneyville, 8-2. The team used multiple pitchers, with Ryan Brinkman picking up the win with two scoreless innings. Post 901 catcher Tyler Kempfer went 3-for-3 with two doubles and an RBI to pace the offense.
The team then lost to Salem, 14-4. Cole Juelfs took the loss on the mound despite allowing just one earned run over three innings. Valmeyer trailed by just one run, 5-4, entering the seventh inning, but Salem plated nine in that frame on six hits, four walks and two errors to pull away.
Jake Krekel led Valmeyer's offense with two hits, including a triple, and two RBIs.
Valmeyer bounced back to nip Effingham in the third game, 5-4. Easton Wallace got the start on the hill, allowing four runs — one earned — over four-plus innings. Phillip Reinhardt finished the game and picked up the win, allowing just one hit the rest of the way.
With the score tied at 4-4, Post 901 scored the go-ahead run in the bottom of the fifth inning. Wallace doubled, took third on a wild pitch and scored on a double steal after Reinhardt had walked.
Krekel had another big game, going 2-for-4 with a triple and RBI.
Valmeyer followed that victory by topping Steeleville, 8-4. Andrew Whipple pitched six strong innings for the win, allowing four runs — three earned — on eight hits and two walks. He recorded six strikeouts.
Reinhardt and Drew Maus were the offensive stars this game, each going 2-for-3 with a double and run scored. Wallace added a 2-for-5 day with two RBIs.
On Monday, Valmeyer closed division tourney play by defeating Olney to earn third place. The final was 9-1.
Reinhardt pitched a gem over six innings, allowing one earned run on three hits and striking out six.
Valmeyer trailed 1-0 in the fourth inning when Wallace led off the inning with a double and Kempfer blasted a two-run home run over the left field fence. It marked the team's first homer of the summer.
Kempfer repeated his power stroke with another home run in the sixth inning, a towering blast which capped a six-run inning for Post 901.
Kempfer is hitting .368 with 29 runs scored and 23 RBIs this summer. Other key players on offense are Krekel (.349, 31 runs, 12 stolen bases), Wallace (.327, 27 runs, 25 RBIs, 14 stolen bases), Reinhardt (.322, 21 runs scored), Easton's brother Erickson Wallace (.308, 26 runs), and Juelfs (.289, 20 stolen bases).
Michael Chism is hitting .486 in limited action this summer.
The Post 901 pitching staff is led by Juelfs (5-1, 0.85 ERA) and Reinhardt (5-1, 1.30 ERA, 38 strikeouts in 37 innings. Whipple is 5-2 with a 2.44 ERA and Easton Wallace is 2-2 with a 1.05 ERA.