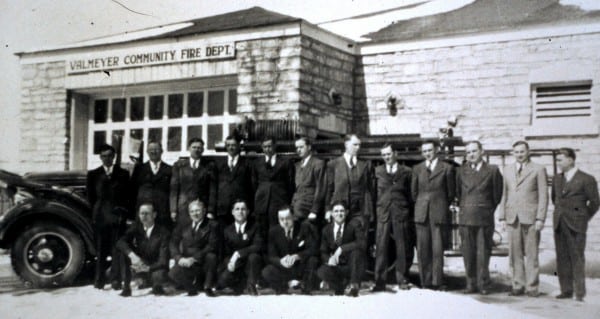 By ROBYN DEXTER and COREY SAATHOFF
For the Republic-Times
Jason "Bones" Niebruegge (second from right) accepts the Firefighter of the Year award from Valmeyer Fire Department Assistant Fire Chief Tim Valentine, Chief Floyd Floarke and Assistant Chief Bret Langsdorf during a ceremony held Saturday night. Floarke received the VFD's first Lifetime Achievement Award. (submitted photo)
The Valmeyer Fire Department marked its 75th anniversary Saturday night with a ceremony at St. Mary's Parish Center.
Not only did the department celebrate all the progress made over the years, but also news of a large federal grant to further protect its firefighters going forward.
U.S. Senator Dick Durbin announced Thursday the Valmeyer Fire Protection District will receive a $54,135 grant for operations and safety from the Federal Emergency Management Agency.
"We got pretty lucky," Valmeyer Fire Chief Floyd Floarke said of the grant amount. "We really weren't expecting to receive that much."
Floarke said the grant will pay class fees in the amount of $9,000 for six of his firefighters who attended Firefighter 2 training at SWIC, and will also fund protective clothing upgrades and health and wellness training for the department.
Dennis Knobloch, former Valmeyer mayor and current Monroe County Clerk, said the fire department deserved recognition for all the hard work its members have put in over 75 years.
"Some of the changes over the years include the equipment they use," he said. "It was very simple when they first started."
The training that goes into becoming a firefighter has also become more intense, he said.
"The volunteers used to just show up when it was time to go to a fire, and that was the extent of it," Knobloch said. "The training standards have definitely increased (now) for the folks who serve in the fire department. So, that's a major factor."
The Valmeyer Fire Department was founded in 1938, after a huge fire destroyed a large general store and several surrounding homes, Knobloch said.
"It required the assistance of several of the neighboring fire departments to get that fire put out," he said. "After that, several of the business leaders in town got together and decided it was time to form an organized fire department."
Valmeyer firemen stand in front of the department's first new truck after it was delivered in December 1938. (Valmeyer Community Heritage Society photo)
The first fire truck was delivered in December 1938, and the department has continued to grow ever since.
Valmeyer's first firemen, 18 in all, were William Sondag, Floyd Meyer, Raymond Laub, Louis Miller, Gus Ritzel, Marcel Sensel, Theodore Lerch, Clarence Pape, Fred Pflasterer, Nelson Schneider, Leroy Ahrens, Paul Hursey, Henry Rubemeyer, Robert Mueller, Emmett Rusteberg, Herman Klohr, Fred Meyer and William Welsch.
Today's department consists of 30 members led by Chief Floarke, who was presented the VFD's first Lifetime Achievement Award on Saturday. Assistant Fire Chief Tim Valentine said Floarke has worked on grants that have brought the department more than $800,000 in much-needed funding through the years. Floarke credited his wife, Carol, for a huge part of his success and thanked her for her dedication.
Knobloch was a member of the fire department in the 1970s and 80s, and felt a strong feeling of camaraderie while he was there.
"The fire department was like a fraternity, not just a group of guys that were there to put out fires," he said. "It was really an extended family. Everybody worked together and helped each other out."
One of the most interesting stories Knobloch said he heard was shortly after the fire department was formed involving a house that burned down.
A resident of the house was killed, Knobloch remembers, and after the firefighters got back to the firehouse, they went back through the town collecting donations door-to-door for the family.
"Those are the kinds of things with a small-town fire department where you see more than just putting out fires," he said. "They're a major part of the community."
In the future, Knobloch said the Valmeyer Fire Department will continue to evolve as equipment and training procedures advance.
"You have to have people who are dedicated to the community, willing to work hard and invest their time for very little in return, except for feeling good about helping the community," he said.