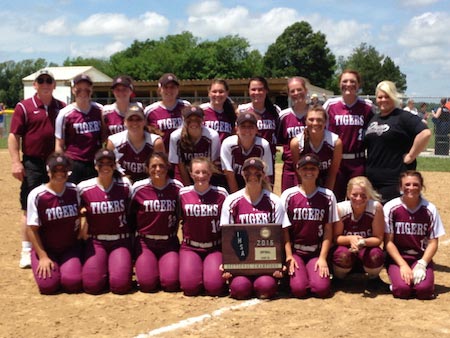 The Dupo softball team survived to play another day. The Columbia Eagles weren't as fortunate.
The Tigers scored a run in the bottom f the seventh inning to edge the host Gillespie Miners, 2-1, at the Class 2A Gillespie Sectional on Saturday.
The two teams were tied 1-1 in the second inning and the score remained that way until the final frame. A short fly to right dropped in and Alyssa Strubberg scored the winning run for Dupo. Jessica Stansch went the distance in the pitching circle for the Tigers.
The win avenges a 2-1 loss by Dupo at the hands of Gillespie earlier this season. The Miners ended their season at 31-4. The Tigers  (19-5) advanced to Monday's Athens Supersectional and will face St. Joseph-Ogden at 11 a.m.
Columbia hosted a Class 3A regional championship game on Saturday, but there was no joy for the hometown Eagles.
Highland used a six-run third inning to down the Eagles, 11-6. Highland (24-8) defeated Waterloo in the regional semifinal on Wednesday, 5-0.
Columbia ends its season at 24-6. Eagles pitchers issued 10 walks in Saturday's contest.