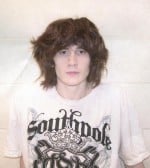 Jordan Kuykendall appeared in a Monroe County courtroom last Wednesday.
Charged with first-degree murder for the June 27 stabbing death of his 17-year-old ex-girlfriend, Erin Schneider, in Columbia, Kuykendall and his attorney, Clay St. Clair, were granted a continuance and given a tentative trial date of Jan. 21, 2014.
Kuykendall appeared before the judge wearing an orange jail jumpsuit and shackles, sporting a much shorter haircut than in prior court appearances. He remains in custody at the Monroe County Jail.
He has entered a plea of not guilty in the murder.
Information included in a police search warrant on file at the courthouse states that a blood-stained knife was found on the floor within 10 to 15 feet of Schneider's body, which was discovered in the basement area where Kuykendall resided at 237 South Riebeling Street with his older brother.
A bloody fingerprint was observed on the knife handle. Two bloody bare footprints were also found near Schneider's body.
A laptop computer was also seized from the Kuykendall home as evidence, warrant information states.
Kuykendall was injured in a head-on crash on Route 158 between Columbia and Millstadt the same day Schneider's body was found inside the home.
This story is featured in the Oct. 23 edition of the Republic-Times newspaper.