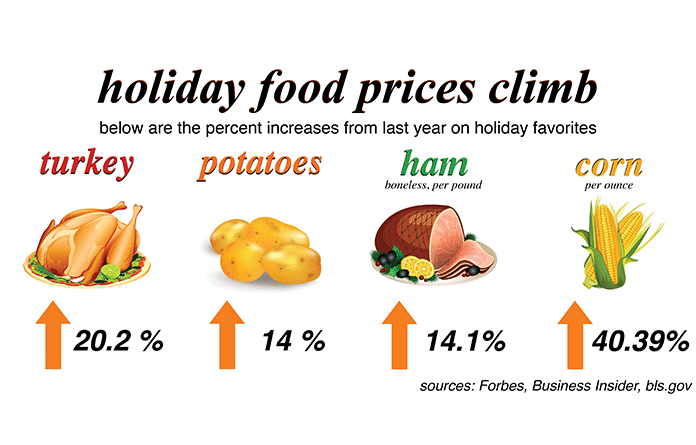 Between higher costs and bigger birds, holiday dinners may look different this Thanksgiving.
Like many others in the meat industry, Schneider's Quality Meats in Waterloo and Schubert's Smokehouse & Meat Packing in Millstadt, which harvests cattle and hogs, had a harder time sourcing the typical 10-12 pound turkey.
"Turkeys are harder to come by this year than they have ever been. We cannot find a 10-12 pound turkey anywhere, and that's usually the size you can get the most of," said Harold "JR" Wallace Jr., co-manager and head meat cutter at Schneider's. "They are just not available. I've been doing this for 32 years, and this is one of the strangest things I've ever encountered."
He said meat processing plants are no stranger to the cross-industry labor shortage that's rocking the nation, and this is why less turkeys are in stores.
"Part of the issue that's going on with the shortages … from what I'm being told and am understanding, is the plants are only operating at about 40-50 percent capacity … so there's only about 50 percent of the product being produced," Wallace said.
This has also made it so that of the birds in stores, the majority are larger than normal.
Dave Kossina, owner of Schubert's, explained there are less workers available to butcher and dress the turkeys, so this process is delayed.
During this time, the birds grow.
"Because they couldn't get them to the plants when they were like 10-12 pounds, the turkeys are bigger this year," Kossina said.
Kossina said longer wait times on packaging materials the butcher shop needs traces back to a lack of workers at these facilities.
"The boxes we get – the plastic, the bags, everything we use – we have to do a better job of managing our inventory because instead of getting things in one to two weeks, it might be three, four or even five weeks before we can get them in," Kossina said. "With the spice companies, (this) has to do with the availability to actually get the spices in and getting the workers to process it. With our box company it's the same thing. They're having a hard time getting workers."
Schnucks spokesperson Paul Simon said the grocery store chain is not expecting "any major disruptions" to holiday food stocks despite the labor shortage, and Schnucks stores should have plenty of turkeys.
Yet, they too found smaller birds are in limited supply.
"As for the centerpiece of most Thanksgiving meals – the turkey – supply at Schnucks is good. In fact, we have more turkeys in stock this year than we had in 2020," Simon said. "We do encourage customers to shop early so they can find the size they are looking for."
Inflation coupled with basic economic principles result in a higher cost for the coveted birds – something even larger retailers are not immune to.
"It's not just on our end. It's nationwide," Wallace said. "It's supply and demand. If the supply is not there but the demand is, your prices go up."
Patrick Penfield, professor of practice in supply chain management and director of executive education at Syracuse University Whitman School, is quoted on the university's website explaining shortages and potential delays due to the small workforce, and more are impacting more than just fowl.
"Holiday staples such as evaporating milk, cooking oil, tofu, turkeys, bottled water, carbonated drinks, canned products, bread, liquor and toilet paper are all in short supply," he said. "Consumers can expect to see shortages and pay more for all of these items this holiday season."
Overall food prices are rising, with the Bureau of Labor Statistics reporting almost a 5 percent rise from last year. Meat in general, not just turkey, is seeing an even larger increase. 
FarmWeek reported Illinois is seeing higher prices than the national average. This year, a Thanksgiving feast for 10 saw an 8 percent increase from the national average.
Because of this, Simon encourages customers to check Schnucks' weekly ad for savings, take advantage of reward programs and shop Schnucks brand items.
Wallace added that even though Schneider's has suppliers across the neighboring states of Missouri, Wisconsin and Indiana, he is still running into issues getting some products to Waterloo.
"I can honestly say one of the harder things that we've had issues getting is some of our lunch meats," he said. "It's not because the product isn't there. (It's because) there's no help in the warehouse to load the trucks and get the product out the door, from what I've been told by a couple of the drivers and suppliers."
For Schnucks, supply chain hiccups have also been caused by trucker and production facility labor shortages, as well as shortages of key raw ingredients, Simon said.
"The good news for Schnucks shoppers is that, through proactive planning with our suppliers and by procuring more Schnucks brand (private label) products, we have been able to mitigate most of these supply chain disruptions," Simon wrote.
Part of this includes communicating with suppliers well in advance, Simon explained. While there is debate over when it is too early to start preparing for Christmas, Kossina and Wallace make sure they will have enough hams months in advance.
Wallace explained he keeps track of previous year sales and orders based off those figures. While he does this every year, he acknowledged this year might pose a little bit more concern.
"This year is really no different than others, it's just you may have to scramble just a little bit extra this year just because product is a little tighter," Wallace said.
Schubert's has a distinct advantage when it comes to Christmas season inventory, as they source their hogs from farmers within a 10-minute radius of the shop.
"We are getting ready to make a big push (of) more hams for Christmas," Kossina said. "The nice thing about having a local hog supplier is on Mondays when we harvest, I can increase our harvest to make sure we have (enough) local hams for our customers, so I do have some time to adjust those numbers."
As Nexstar News Media Wire reported, consumers may face less options when it comes to ham specifications. For example, labor shortages may yield less boneless ham.
"We should not experience that here simply because we start the whole process when we harvest the animal," Kossina said, explaining this allows his staff to prepare cuts according to consumers' wants.
He acknowledges his team at Schubert's is gearing up for an extra busy time. In addition to the holidays, it is also deer season.
"We've got a great group of people, and I wouldn't want to do this without any of them," he said. "We are probably running right now at 140-150 percent."
While Wallace believes the only surefire way to fix food shortages and supply chain issues at large is for more to re-enter the workforce, there are still some things consumers can do to lessen the stress of holiday food shopping.
"If you know what you're going to do, pick up your canned goods, pick up your dried stuff. Get it now, because Lord knows you never know what you're going to find. I'm not trying to incite any concern … I'm just saying if you have the chance to grab it, grab it," Wallace suggested.
In the spirit of Christmas, Kossina said it's time to give the gift of business to local shops, just as they give so much to the community.
"I would encourage everyone to shop local, whether it's us or another butcher shop in their hometown, because the small business owners are the ones that need the help now more than the Sams or the Walmarts of the world," Kossina said. "We're the ones that will sponsor the local ball teams, softball teams, basketball teams, baseball teams."