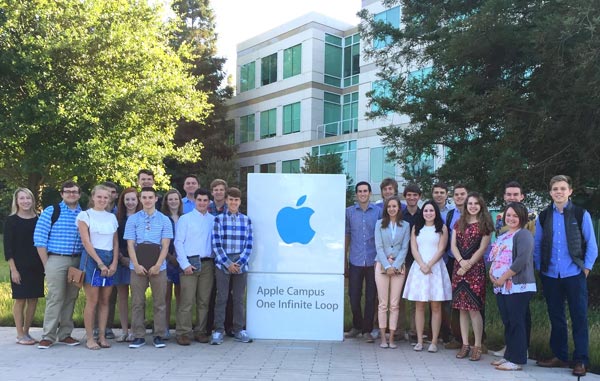 ---
At the end of the school year, Monroe County CEO students had finished their small business projects and were feeling ready to take on the world.
Then came an opportunity to learn from some experienced entrepreneurs, and students didn't hesitate to take the plunge. Monroe County CEO program facilitator Jamie Matthews said a total of 21 local students went on the six-day California trip near the end of June.
"It was all created by the parents of a CEO member who graduated. The parents planned everything and scheduled it out, which gave the students an amazing opportunity," she said.
Brian and Kelly Estes not only planned out the trip for these budding entrepreneurs, but also served as chaperones throughout the experience.
Students explored Stanford University, the Apple Inc. headquarters, the Intel Museum, SherpaVC — a venture capital firm — and more. At Apple, the kids heard from Chris Espinosa and Eddy Cue about working with late Apple founder Steve Jobs, the history of Apple, and about the challenges of pursuing a dream.
Espinosa helped found Apple in Jobs' garage while Cue established the online Apple Store and created iTunes. Matthews said students walked away with ideas for bringing computer programming classes into the area high schools' curricula.
"(The trip) was so eye-opening to the possibilities out there. (With the technology out there), they will be able to do anything from anywhere," she explained.
Blake Holmes was one of the students who went on the trip, and said his experience at Apple taught him the importance of creativity.
"I learned that innovation is huge. Also if you can work with companies from all over the world, that is how you can have lots of potential," he said.
Stanford allowed students to explore different entrepreneurial programs, and students also learned from two different venture capital firms on what start-up companies can do to attract investors. At the end of each day, students reflected on what they learned from the trip.
"They took all these different ideas from the trip that they are going to use to strengthen their community and also use for their businesses," Matthews said.
Students completed individual start-up businesses at the end of the school year that allowed them to explore becoming an entrepreneur as well as how to establish an investor base.
According to Matthews, plans for the second year of the CEO program are moving along, with little change to the curriculum. She added that summer orientation for incoming students will take place July 20 in which they will have the chance to meet with the CEO board and some first-year alumni.
At the end of the California trip, students were asked what was the most important lesson they gleaned from the various tours and speakers.
"I learned to take risks while you are young. I also learned to not be discouraged by failure, but to learn from it," Carter Kesler said.