Strong finish for CCSI grad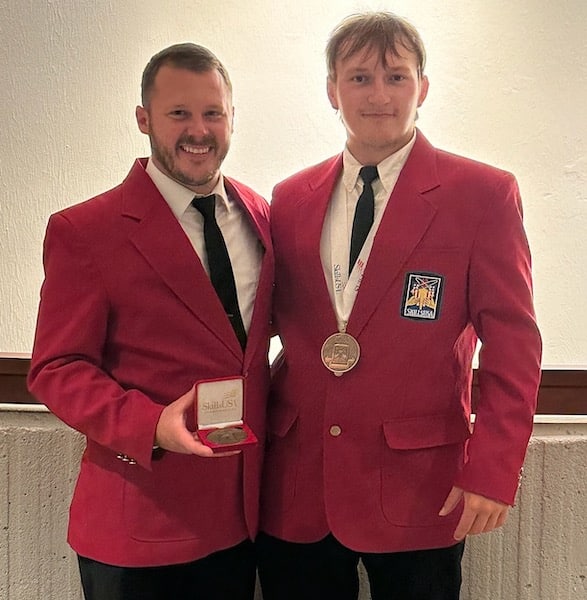 Recent Career Center of Southern Illinois graduate Cody Strong of Red Bud put the school back in the winner's circle during the SkillsUSA national competition last month.
Strong, who won first place in the state auto body repair competition, took home a bronze medal in late June after a grueling three-day event in Atlanta against 35 of the best in the nation.
Strong told the Republic-Times he couldn't have done it on his own.
He credits CCSI auto collision repair instructor Lucas Mund, a Waterloo High School grad, for not only providing the knowledge needed to succeed but also for a winning attitude that helped Strong bring home third place.
"He's a great teacher, just a joy to be around," Strong said of Mund. "I wouldn't have made it without him."
Strong described Mund as a constant optimist who encourages students in their education and always has a smile on his face.
Mund had similar praise for Strong as a student.
"He is an excellent student, and he learns quickly," Mund said. "You don't have to tell him three times what to do. Once or twice and he's got it."
While this is not the first time a CCSI student has qualified for nationals, Mund pointed out it is the first time a student has participated in the auto body repair competition.
Dawson Goldschmidt of Valmeyer won the state-level competition two years in a row in 2021-2022 for welding, and Michael Chausse of Red Bud placed fifth in automotive service technology at the national level in 2021.
Mund said Strong's calm demeanor gave him an "edge" in the different levels of competitions.
"If the content of the competition alone isn't enough to make someone nervous, the thought of competing against 35 of the greatest collision repair students in the United States would surely do the trick," Mund said. "Along the whole way, Cody was able to keep a very level head, never letting the pressure of the competition, or all the different sights of a massive city come in the way of his goals."
Strong – who said he likes to stay mostly in the Red Bud area – described the trip to Atlanta as a "totally unique experience."
In fact, he seemed to be taken in more by the big city than the competition itself.
While Strong described winning the state competition as "exciting," he said his trip to nationals was "absolutely crazy… I don't really travel. I've never been anywhere that big."
Despite the unique location with some time spent sightseeing, Mund said Strong endured an "intense" three days of automotive tasks to emerge as one of top three in his category.
"Cody's competition was split between three days. The first two competition days consisted of a mock job interview and a 100-question, timed, written test," Mund said.
The hardest part, according to Strong, was the hands-on competition on the final day, which began at 7:45 a.m. and ended at 3 p.m. with only a break for lunch.
That day was the longest portion, with competitors performing plastic repair procedures using nitrogen welding techniques and "two-part repair material" and shaping sheet metal with both aluminum and steel substrates.
The competitors then performed structural analysis and diagnosed frame damage, used a MIG welder to repair 22 gauge steel before being tested on their abilities to identify proper repair procedures on the "Alldata Collision" computer platform.
"I've never used (Alldata Collision) before," Strong admitted.
Despite his unfamiliarity with the program, Strong still found himself in the backstage area of State Farm Arena in downtown Atlanta as one of the finalists when the competition concluded.
Strong said the top three names in the category were shown on a screen before he and the other two medalists were taken to a waiting area.
"There was a lot of suspense," Strong said, noting he spent time talking with the other two competitors before the final results were announced.
"We looked at each other and said, 'I don't even know how we got up here.' You have no idea what place you got until they call your name and you walk up, " Strong recalled.
While he took home third in a national auto body repair competition, Strong said he is only "considering" a career in the field.
He currently works for his cousin's excavating and hauling business.
He said he gets to use his skills occasionally to repair damaged semi trucks, but he considers auto body repair more of a hobby.
"I think if I did it every day, I might get burned out," Strong said.
The ultimate prize for Strong is shining a light on the quality education CCSI has to offer.
"I think the school could use a little more funding," Strong concluded, once again praising Mund for his work as a teacher and CCSI as an example of how vocational education can benefit the region.