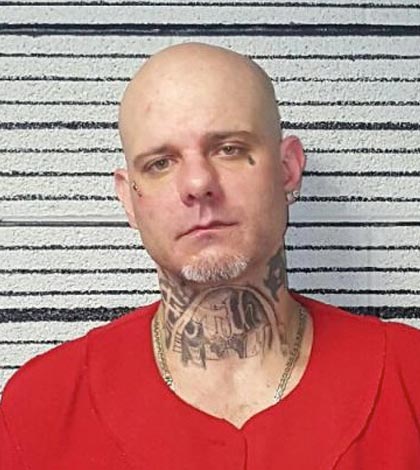 Dupo police arrested a 38-year-old St. Louis man following an early Wednesday morning incident in which shots were fired at an officer.
The St. Clair County States Attorney's Office has issued charges against William J. Bowen, 38, of St. Louis, for attempted murder, aggravated discharge of a firearm at a police officer, felon in possession of a firearm, and aggravated fleeing and eluding a police officer.
Dupo police were dispatched to the 300 block of Stone Street shortly after 3 a.m. in reference to two suspicious men walking around with flashlights through yards. Officers arrived a few minutes later and observed a white man with a red shirt and black pants running away from a residence. The subject got into a Ford Mustang, which was later determined to be stolen. Officers activated their emergency lights and the subject drove off at a high rate of speed with no headlights on.
Following a short pursuit, the Mustang came to a rest on Route 3 just south of Stolle Road. A man exited the vehicle and ran toward a wooded area on the west side of the road. The lead officer exited his patrol car and began to chase after the suspect, after which the man turned around pulled a firearm and shot several rounds at the officer.
Sgt. Kevin Smith of the Dupo Police Department said the officer took cover behind his patrol vehicle and did not have time to return fire. The suspect ran into the wooded area, where a perimeter was quickly established by several police agencies including the Illinois State Police, St. Clair County Sheriff's Department, Columbia, Cahokia, Sauget and Alton/Southern Railroad Police.
The suspect was taken into custody a short time later without further incident.
"The Dupo Police Department would like to thank all the agencies that were quick to respond and help in this matter," Sgt. Smith said.