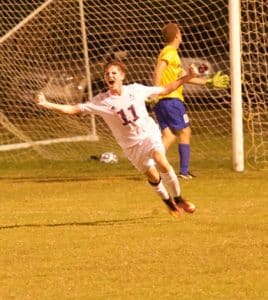 High school soccer action is hot and heavy as the regular season schedule grinds on for local teams.
Following a loss at Saint Louis University High School last Tuesday night, the Gibault Hawks topped Catholic rival Marquette, 3-1, at Oerter Park last Wednesday.
Karson Huels, Ben Mueth and Kyle Rocca scored goals for the Hawks.
On Saturday, Gibault battled Belleville West for the second time in two weeks. This time, the Maroons came away the victors in another close game, 2-1. Dalton Scace scored the lone goal for Gibault.
The Hawks (3-3-1) played at Mater Dei on Tuesday and will be at Edwardsville on Wednesday. The Hawks host MICDS on Friday night, and will square off against rival Columbia at Oerter Park at 6:30 p.m. on Sept. 13.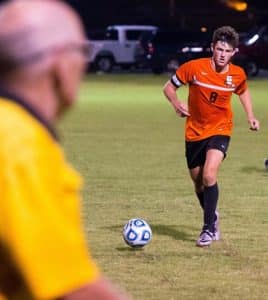 Mueth leads the team in scoring with seven goals and one assist.
The Eagles are 3-0 on the season following wins last week against Carlyle and Belleville East. Columbia blasted Carlyle last Tuesday, 12-0.
The Eagles received two goals each from Jake Bridges, Riley Hubler, Liam McGonigle, Sam Spivey and Brennen VanBruesegen. Bridges added three assists.
On Thursday, Columbia posted a 3-0 win at Belleville East. Noah Jorns scored two goals for the Eagles and Hubler added the other tally.
Columbia played at Breese Central on Tuesday and will host Lebanon on Thursday before the big showdown with the Hawks.
Bridges leads the team in scoring with three goals and four assists.
Waterloo improved to 4-1-1 with a 2-0 blanking of Belleville West at home on Thursday. Senior Ben Huels scored both goals for the Bulldogs, who played host to Freeburg on Tuesday.
The Mississippi Valley Conference schedule then begins to kick in for the 'Dogs, as they play at Civic Memorial on Wednesday, host Mascoutah on Thursday and host Jerseyville at 1:30 p.m. Saturday.
Philip Most leads the Bulldogs in scoring with five goals and two assists.
Valmeyer improved to 2-4 on the season by winning two of three contests in the Hancock Tournament.
The Pirates defeated Lift For Life Academy last Monday, 5-2. Easton Wallace scored three goals and Trevor McClellan added two scores.
Last Wednesday, the Pirates posted a 5-1 victory over Roosevelt. Wallace, Ryan Brinkman, Eli Buchanon, Drew Maus and Brandon Tuttle scored the goals for Valmeyer.
On Thursday, Valmeyer dropped a 6-0 contest to Hancock to close out tournament play.
Valmeyer hosts Valley Park on Thursday.
Wallace leads the team in scoring with five goals and two assists.