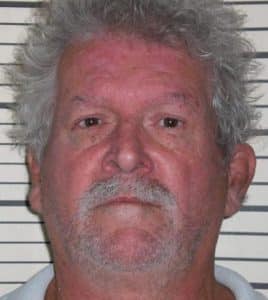 A registered sex offender from Madison County was charged with a felony after he apparently stopped inside a Valmeyer daycare center last week to ask for directions.
Valmeyer police said Raymond C. Sampson Jr., 70, of Pontoon Beach, entered Daytime Discoveries Learning Center, 627 S. Meyer Avenue, on June 23 and asked the center's owner for directions to Chester. Police stressed that Sampson — who was convicted in 2008 of sexual exploitation of a minor for exposing his genitals to a child, according to the Illinois Sex Offender Registry — had no contact with any of the children inside the daycare facility.
"He may not have even seen any of the kids," Valmeyer Police Chief Tom Andres said.
The owner told police she thought there was something suspicious about the situation, so she took down the license plate on Sampson's vehicle as he was driving off and alerted authorities.
"She did the right thing," Andres said, adding that it was out of the ordinary to ask for directions at a daycare center when a gas station — Mike's Service Convenience Store at 522 S. Meyer Avenue — is located nearby.
Valmeyer police worked with authorities in Pontoon Beach to track down Sampson after determining him to be a convicted child sex offender that should have known not to enter a daycare center.
"We think he intentionally went in there," Andres said. "He knew he wasn't supposed to go there."
Sampson was charged with unlawful presence at a daycare center by a child sex offender, which is a Class 4 felony. He was transported to the Monroe County Jail with bond set at $25,000. Sampson posted bond Thursday and was released from jail with a preliminary hearing date of July 28 set.