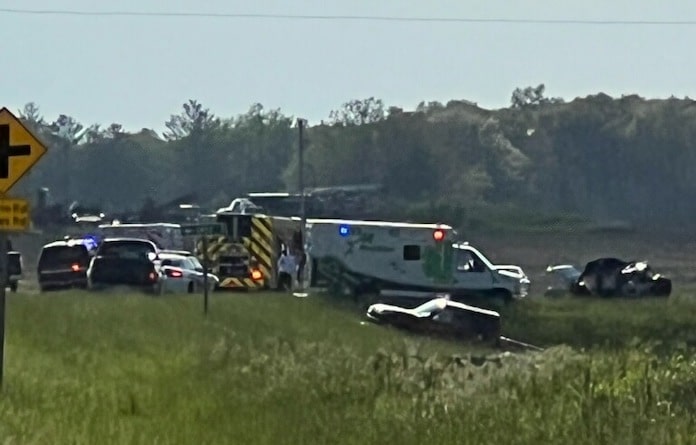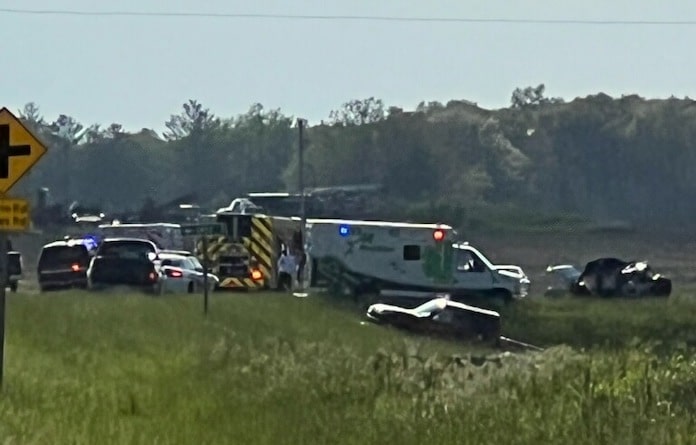 A young man from Herrin died in a two-vehicle crash early Saturday evening near Red Bud.
The Red Bud fire and police departments, Monroe County EMS, MedStar Ambulance and Monroe County Sheriff's Department responded shortly after 5 p.m. to the crash on Route 3 at Old State Route 3 just north of Red Bud.
ISP said a 2001 Chevrolet truck driven by Rhonda Schaefer, 57, of Red Bud, was traveling east on Old State Route 3 and pulled out into the path of a 2021 Ford Bronco driven by Ryne Fithian, 25, of Sparta, which was traveling north on Route 3. This resulted in a collision and the Bronco rolled over, causing passenger Chance Karnes, 20, of Herrin, to be ejected from the vehicle.
Karnes, who was not wearing a seat belt, was pronounced deceased at the scene.
Fithian and two other passengers in the Bronco, Allison Flynn, 22, of Sparta and Destiny Gillihan, 20, of Batesville, Ark., were also injured and transported to area hospitals, ISP said.
Flynn, who was airlifted from the scene by ARCH Air Medical Services, was in intensive care as of Monday but has since improved.
Schaefer was also listed as injured on the preliminary crash report and was transported by family to an area hospital for minor injuries.
The roadway was closed during the crash investigation and was re-opened at approximately 10:36 p.m. The crash remains under investigation.
According to the Herrin Independent, Karnes was a 2020 graduate of Herrin High School, where he played quarterback on the football team coached by his father. He was traveling as part of a wedding party when the crash occurred.
Monroe County Coroner Bob Hill said Karnes was the best man in a wedding that occurred approximately two hours prior.
"The groom (Fithian) and bride (Flynn) were in the front seats with the best man (Karnes) and bridesmaid (Gillihan) in the back," Hill said.
Funeral services for Karnes will take place this Sunday on the Herrin High School football field. Arrangements are being handled by Meredith-Waddell Funeral Home in Herrin.
According to his obituary, Gillihan was Karnes' girlfriend.
"Chance was a very hard worker and always enjoyed being outside," his obituary states. "He was an avid competitor and his shared love for horses with his Papa Mike was immeasurable."
"Papa Mike" is Karnes' grandfather Mike Mason, the brother of longtime Waterloo High School teacher and coach Matt Mason.
Matt told the Republic-Times that Karnes was part of the wedding ceremony for the Fithians at Circle F Ranch – the couple's cattle and horse ranch just outside of Sparta – and they were traveling to the reception in St. Louis County when the crash occurred.
Karnes was living with Matt's brother near Coulterville, as it was closer to his job.
"He was a hard worker. My brother was very close with him," Matt said. "They shared a strong interest in cutting horses. Chance took a liking to it when he was just 6 or 7 years old."
Per a GoFundMe created in support of the newlyweds, a friend of the couple posted Monday that Fithian may not be able to work for a few months due to his injuries and his bride remains at Saint Louis University Hospital.
"The family will need help with medical bills for everything this hospital is doing to give her the best chance at a normal future, as well as keeping their small farm running until they can get back to work," GoFundMe organizer Christine Bruemmer posted.
To donate, click here.