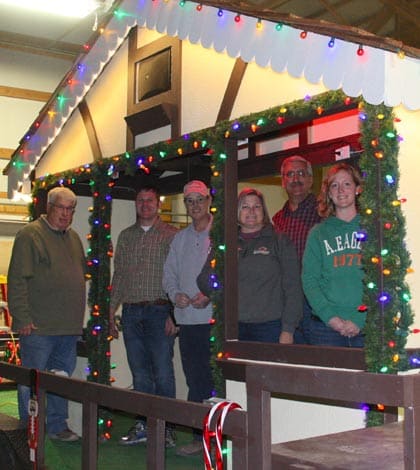 As prayers go out to Waterloo German Band founder Harry Wolf, a few entities in the community are banding together to save a local time-honored Christmas tradition.
Wolf, 88, recently announced his retirement from the Waterloo Santa Float. The institutions taking the reins are Sister Cities of PortaLoo, the City of Waterloo and the Waterloo Chamber of Commerce.
"(Wolf) started a great tradition. And I'm glad everyone is sticking together to keep the tradition going," Sister Cities President Bill Getchman said.
Getchman said his organization made a large financial contribution to getting the float up and running. Additionally, Sister Cities collected donations for the children's goody bags.
"A lot of citizens are donating. We put out a plate and I think we're reaching our goal for the first year," Getchman said. "We could always use more."
For the first time in nearly 20 years, the float carting Santa around town will not come from the Waterloo German Band. Waterloo Mayor Tom Smith said the city is working on a new design to be completed this week.
"It's been a group effort, doing a German style house. We want it to kind of look like Harry's float," he said. "But we wanted to make some changes."
The features of the float include Christmas lights along the frame of the house, a sign indicating that those on the float are on the North Pole, candy canes decked along the trailer and a chimney with a smoke feature. The house also protects volunteers from the elements.
"Hopefully it's going to be a great look that everyone's going to enjoy," Smith said. 
The city stepped in to plan the routes of the float, design the concept for the float and construct it, as well as cover the cost, and provide a city vehicle to pull the float.
"We want to keep it going. We're going to keep the tradition going because I think that's what the community wants," Smith said.
Waterloo Chamber of Commerce President George Obernagel said the chamber has coordinated this year's Santas for the float. Obernagel will serve as Santa for one night, along with Paul DeBourge, Wayne Collmeyer, Don Schrader, Smith (two nights), Brian Unger and Ryan Osterhage.
The chamber is also providing candy for goody bags. Yet in the midst of feeling prepared, Obernagel said the absence of Wolf and Waterloo German Band member Barbara Johnson will be readily apparent.
"It will never be the same because it's Harry and Barb. We'll miss the tradition of having chili, refreshments and sausages," he said. "We have a new float. A new tradition. And you won't hear Harry's voice out there saying Christmas things."
Another who will miss having Wolf on the Santa Float is the man himself. Wolf was admitted to Red Bud Regional Hospital on Monday and was unavailable for comment.
An excerpt taken from his soon-to-be-published memoir captures his sentiments into starting and continuing the Santa Float for nearly 20 years. The memoir is scheduled for publication early next year, Johnson said.
"Waterloo was the perfect community to create a new Christmas tradition, and the Waterloo German Band had the means: We had a float that could be decorated and driven around the city, and we had recorded a CD of instrumental Christmas music," the excerpt reads. "I was talking to Mayor Bob Krump at a Rotary Club meeting in the late 1990s. 
"I told him, 'I'd like to decorate the Waterloo German Band float for Christmas, then drive around town, playing loud Christmas music.' Bob said, 'I don't see a problem with that. I'll let the police know not to bother you.'"
In 2005, Harry writes, the float grew to where the chamber began to get involved in recruiting Santas. Through the changes, Harry never stopped treating the float as a public service.
"For me, it was a way to give back to my community—a way to thank my parents, my church, my school, the organizations I belong to," the excerpt continues.
The float heads out at 5 p.m. each evening (Dec. 16-23). Below is the route schedule:
Dec. 16 and Dec. 20
Northwinds, Rose Meadows, Sterritt's Run, Dannehold Farms, Lou-Del, Villas at Bradford, Marney's Clearing, Bradford Estates, Remlok, Country Club Hills, Remington Ridge, Stoney Creek
Dec. 17 and Dec. 21
Area between Route 3 (east) and Market Street (west): Paulter Heights, Gibault area, Garden Place, VFW area, downtown, Leland Terrace, Springview Acres
Dec. 18 and Dec. 22
Area east of Market Street and south of Hamacher: Sandalwood, Greenfield Manor, Hardy Acres, Morrison Avenue, Bellefontaine Heights, East Ridge, Quail Ridge, The Ridge, Oak Hill, Legacy Place, Parkwood, Country Lakes
Dec. 19 and Dec. 23
Lakeview Estates, Westview Acres, Silvercreek Crossing, West Lake Estates, Sunset Acres, The Meadows, Southview Villas, Stonefield, Vandebrook, Oak Valley, Creekside Estates, and Robrika's Run
Inspiring a new tradition
Seeing how Waterloo has responded to Wolf's creation, several volunteers have decided to bring a Santa float to Valmeyer. Obernagel said the float will run through the entire town Dec. 18 and again Dec. 22.
"It was a joint idea. A few of us were talking about it, brainstorming," he said.
Those behind the Valmeyer Santa Float idea include Diane Stuckmeyer, Lori Brown, Michelle Clark, Quinton Clark, Obernagel, Dan Hemmer, and Steve Frank, who made the reindeer and sleigh for the float.
Quinton Clark will be Santa on Dec. 22, and Obernagel on Dec. 18. Bivins will serve as Mrs. Claus with Obernagel, and Michelle Clark will take on the role with Quinton. 
Obernagel said they wanted to bring the spirit of Christmas to Valmeyer.
"It's like a little forgotten town. It's a beautiful town," he said. "Well decorated. It's a good thing for the community to get the city involved. It's the spirit of Christmas that will make people happy."
Also on tap Dec. 19-20 is Santa's Sleigh Ride in Red Bud, which will then visit Ruma and Prairie du Rocher Dec. 21. 
Santa Claus will ride through Millstadt Dec. 11-13, with a photo opportunity with Santa from 8-9 p.m. Dec. 13. 
These communities certainly appreciate the opportunity to see Jolly Ol' Saint Nick giving a 'Ho, ho, ho!' as he passes by, but Waterlooans will continue to feel a sense of pride in the tradition started by a legend.
"It's been a great run, and I am so pleased that the City of Waterloo, the Waterloo Chamber of Commerce, Sister Cities PortaLoo, and our band will continue the tradition with a new float … For those of us who have been involved with the Santa float over the last two decades, the expressions on the children's faces have been priceless," Wolf's excerpt states.
"You can have all the money in the world, but nothing makes you happier than putting a smile on the face of a child."