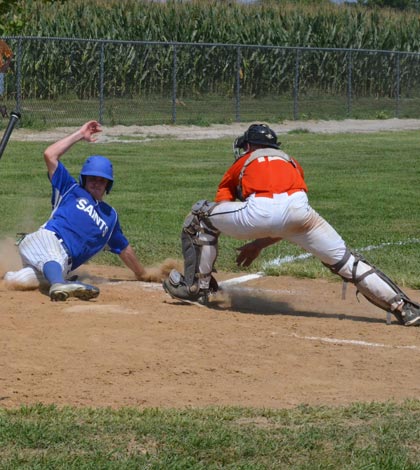 The Columbia Saints informed the Mon-Clair Baseball League this week that they are disbanding the club, ending a 15-year run in their most recent incarnation as a team.
"The Saints will not be in the Mon-Clair League in 2018," league president Don Barton confirmed with the Republic-Times on Tuesday. "(Manager) Doc Kleinschmidt has decided to work with the next generation of Columbia Saints. He has two young sons that he intends to coach until they can play in the league."
Kleinschmidt resurrected the team in 2002 following a 24-year hiatus, with home games played on his "field of dreams" located off Triple Lakes Road in rural Columbia.
The Saints went 1-25 in league play this past summer. Columbia first fielded a team in the league from 1966 to 1978 before disbanding. The best years for the Saints were probably the 1976 and 1977 seasons, led by league batting champion Nelson Mathews. He hit .413 in 1976. The team went 11-9 both seasons.
The Saints posted a 13-13 record in their return to league play in 2002, and went 13-11 in 2004.
Columbia will be replaced in the Mon-Clair League by the Cape Girardeau Capahas, who have been regular participants in the annual Valmeyer tournament.
"We are replacing the Saints with the Cape Girardeau Capahas, who have been in existence probably longer than any other men's team in the country," Barton said.