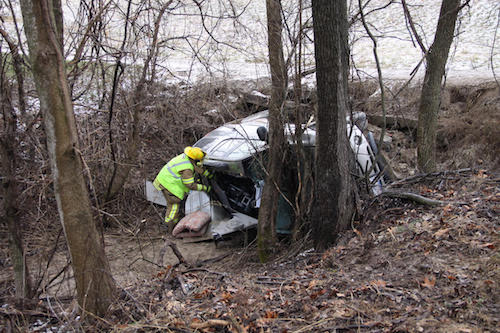 Waterloo police, Monroe County Sheriff's Department deputies, Waterloo firefighters and Monroe County EMS responded shortly before 3:30 p.m. Sunday to a report of an SUV down a wooded embankment off Route 156 at Fountain Creek Ridge Lane.
The vehicle involved was a 2003 GMC driven by Clair A. McGinnis, 54, of Waterloo. He complained of leg pain as rescuers tried to access the vehicle using a chainsaw to clear a path and ladders to reach the vehicle. McGinnis was transported to St. Anthony's Medical Center in St. Louis County. The crash remains under investigation.
A fireman responding to the crash complained of chest pain at the scene and also received medical assistance from Monroe County EMS.
Just minutes prior to the crash, a Waterloo police officer attempted to stop an SUV traveling west on Route 156 near the Monroe County Fairgrounds after speeding past the officer on southbound Route 3. As the SUV reached speeds in excess of an estimated 80 miles per hour, the officer lost sight of it.