Two juveniles from Cahokia are in custody after police said they stole a vehicle that was left running outside of a Red Bud gas station early Thursday morning before being pulled over in Waterloo.
Monroe County Sheriff Neal Rohlfing said his department received an Illinois State Police Emergency Radio Network broadcast at 2:49 a.m. in reference to a stolen 2015 Mazda 6 being taken from the Casey's General Store in Red Bud.
The owner of the Mazda apparently went into Casey's and left his vehicle running, police said. A 15-year-old female from Cahokia reportedly entered the driver's seat and a 16-year-old Cahokia male entered the passenger seat, and the vehicle left the area accompanied by a second vehicle, described as a tan SUV.
Shortly before 3 a.m., a Monroe County Sheriff's Department deputy located both vehicles entering Waterloo from northbound Route 3 and turning onto South Market Street. Rohlfing said the deputy waited for backup to arrive and coordinated a traffic stop of both vehicles. The MCSD pulled over the stolen Mazda, and the Waterloo Police Department pulled over the SUV.
The two juveniles were taken into custody and turned over to the Red Bud Police Department for processing. Charges are pending in Randolph County for theft of a motor vehicle and in Monroe County for possession of a stolen vehicle. The case remains under investigation.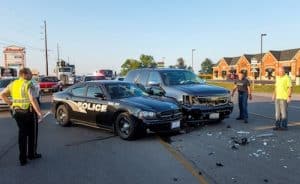 A Red Bud police officer handling the case in Waterloo was involved in a crash about 6:30 a.m. Thursday outside of Huck's on Route 3 near North Market Street.
The officer was pulling out of Huck's in his Dodge Charger patrol car onto Route 3 after stopping to get a cup of coffee when his car collided with a northbound Chevrolet Tahoe SUV. No injuries were reported in the crash, which was handled by the WPD.