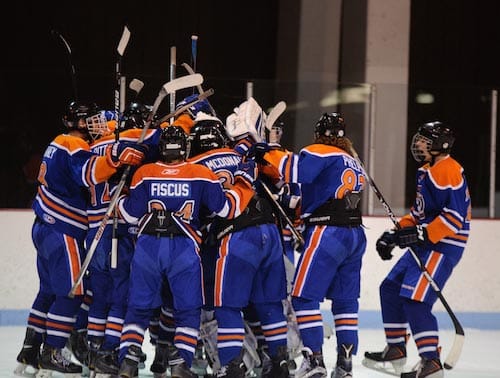 The Freeburg-Waterloo Raging Bulldogs won the first game of a best-of-three series Thursday night against O'Fallon in a clash for the Mississippi Valley Club Hockey Association championship.
"Overall it was a good effort, but the 4-0 final on the scoreboard was not indicative of how tight the game was," Raging Bulldogs head coach Nick Dreyer said afterward. "(O'Fallon) had a couple really good chances that if not for the play of Peyton Hamilton in net would have totally changed the landscape of the game."
Scoring goals for Freeburg-Waterloo were Dylan Gauch, Frankie Libera, Austin Patton and Adam Phelps. Hamilton made 31 saves for the shutout.
The series continues 

Monday

when the two teams take the ice in East Alton at

8:45 p.m.

A win would send the Raging Bulldogs home with the Class 2A title for the first time since the program formed four years ago out of the existing Freeburg Blue Rage and defunct Waterloo Bulldogs. Waterloo won MVCHA Class 1A titles in 1999 and 2002; Freeburg won the Class 1A title in 2000 and 2008.
A loss would put the Raging Bulldogs back on the ice

Tuesday

in East Alton for a winner-take-all game three.
"This last win is going to be the hardest to get and will take everything we have," Dreyer said.
Both Freeburg-Waterloo and Columbia had designs on hoisting the Mississippi Valley Conference Hockey Association trophy this season.
 While Columbia's dream came to an end
Monday
night, Freeburg-Waterloo's is still very much alive.
The Raging Bulldogs upset top-seeded Edwardsville in the deciding game of a best-of-three playoff series Tuesday night, advancing to the MVCHA Class 2A final.
Senior captain Scott Nanney joined Jack Lugge, Gauch and Phelps in scoring goals for a 4-1 win. On Monday night, the Raging Bulldogs forced a game three with a 4-2 victory. Lugge recorded a hat trick in that win.
The Raging Bulldogs had to scratch and claw for a first round series win over Collinsville last week before taking on top-seeded Edwardsville in the second round. The Raging Bulldogs pulled out a 2-1 victory over Collinsville last Tuesday to win the best-of-three series by the slimmest of margins. Parker McDonald and Patton scored the goals on assists from Lugge and Nanney.
Hamilton was stellar in net once again, stopping 38 of 39 shots. He has a .915 save percentage this season.
Freeburg-Waterloo came out flat against Edwardsville in game one
on Thursday
, however, falling 3-0. The Raging Bulldogs were outshot 38-22 in the loss.
"We wanted to play a very tough, heavy game against Edwardsville to see if they could match us physically," Dreyer said. "Game one, we didn't do that… we played flat and didn't engage physically at all. In game two, things changed in a big way. I always tell the boys you find a lot out about a team when they lose a playoff game and take the first punch to the mouth.
"Peyton Hamilton was easily the star of the show for us in this series."
Dreyer said a tough O'Fallon team awaits. O'Fallon eliminated the Columbia Ice Eagles to advance to the final.
"I've been telling our guys all year that O'Fallon is a dangerous team," Dreyer said. "I think our boys are ready for the challenge. I
n four years
of having this club, we have never played a playoff series that hasn't gone all three games. A good majority of our players have been a part of those series. I think you have to learn how to lose a lot of times before you learn how to win… and I think we have gotten to that point as a club."
 The Columbia Ice Eagles dropped two straight games to O'Fallon, falling by identical 5-2 scores
on Thursday
and
Monday
.
The Eagles had a first round bye in the MVCHA Class 2A playoffs by earning the second seed.
In game one, O'Fallon used five second period goals to stun Columbia. Garrett Poole and Hudson Miller scored the goals for the Eagles. Elijah DeFosset contributed two assists.
In game two, O'Fallon jumped out to a 2-0 first period lead and held on despite a furious late charge by the Eagles.
"We knew the series with O'Fallon was going to be tough.  They always have a good team that plays hard," Columbia head coach Kevin Feager said. "We were playing them pretty good in game one , but we hit a couple bad stretches. We ended up giving up five goals in the second period and weren't able to come back from that. In (
Monday's
) game, we went down 3-0 before we got on the board.  We were in penalty trouble the second half of the game, which made a comeback that much more difficult.
"Overall, we had a good season, but didn't get as far as we hoped."
Sean Hofstetter led Columbia in scoring this season with 43 goals and 12 assists. Poole was next with 31 goals and 19 assists.
Chase Taake posted a 13-6-1 record in net for the Ice Eagles on the season.