Property assessments finally ready
Nearly at the halfway mark of 2023, preparations are finally underway to mail Monroe County residents their property tax assessments.
Monroe County Commissioner Dennis Knobloch announced during Tuesday's county board meeting that assessment notices are "at the printers" and scheduled to be released next week.
Monroe County Supervisor of Assessments Carl Wuertz confirmed he anticipates assessments to be mailed next Wednesday, with publication of assessments also scheduled for the June 14 issue of the Republic-Times.
Assessments have not been released this late in the year since 2018, when they were published on June 27.
When asked the reason for the delay, Wuertz said, "For personal reasons, I'm not going there."
Monroe County Treasurer Kevin Koenigstein told the Republic-Times he still anticipates tax bill due dates to be in November and December.
Despite the second due date being after the beginning of the county's next fiscal year, Koenigstein said the county will be able to avoid the need for outside loans through "interfund borrowing" until the second property tax payments arrive.
In other county business, Knobloch gave an update on a project taking place at the Old Baum Church in rural Waterloo.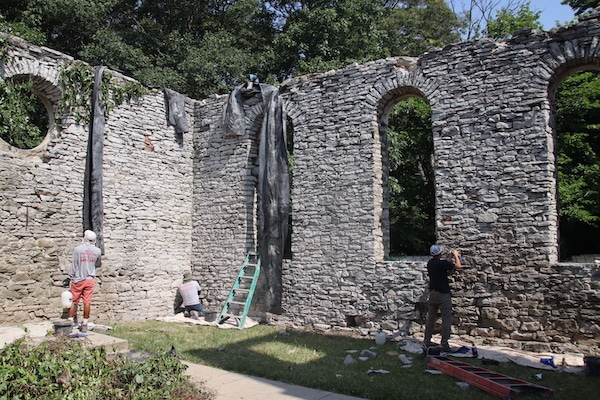 The stone church, which was built 150 years ago, has been a popular wedding venue in recent years but has been closed due to safety concerns.
Knobloch explained a "stabilizing" project began Monday to re-set stones which became loose due to the age of the structure.
With the masonry and tuckpointing work being done this week, Knobloch said the structure should be able to stand as-is for the foreseeable future.
Funding for this $170,000 project came from Monroe County's portion of American Rescue Plan Act funds.
Knobloch explained that tourism-related projects are eligible for ARPA funds.
Commissioners also gave the go-ahead for Monroe County Engineer Aaron Metzger to apply for a Highway Safety Improvement Grant to install hot-mix asphalt shoulders along Bluff Road.
Metzger had discussed the application previously, explaining these three-foot-wide shoulders would not be a true "bike lane," but would provide an element of safety for cyclists and motorcycles on Bluff Road.
If approved, Metzger speculated this project would not begin until 2025 at the earliest.
Metzger also noted the pedestrian crossing on Route 3 at HH Road/Country Club Lane was not finalized yet due to an Illinois Department of Transportation delay.
He said someone from IDOT is expected to inspect the intersection this week, with "electrification" of pedestrian crossing signs and required striping to be completed soon.
Metzger also said he has asked for IDOT to provide an electronic message board near the intersection once that project is complete to advise motorists of the new possibility of pedestrians in the intersection.
As part of Monroe County beginning its comprehensive planning process, it is looking for public input for direction of the county in coming years.
A survey is now available online at surveymonkey.com/r/JLVGMBY and monroecountyil.gov/departments/zoning-and-building.
The survey includes questions about housing, development, agricultural land use and basic demographic information, among other topics.
Surveys are due by June 30.