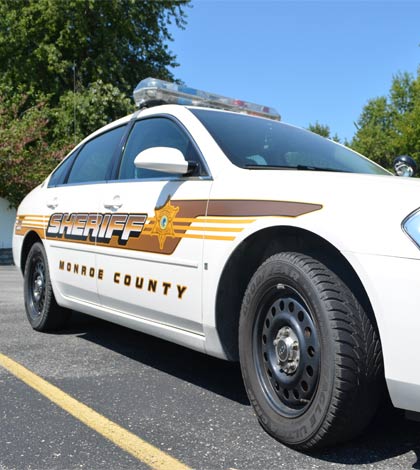 Columbia Police
Feb. 12 – Candance L. Wright, 18, of Cahokia, was arrested for obstructing a police officer.
Feb. 18 – Jeremy E. Speer, 18, of Millstadt, was arrested in the 2800 block of Lakeside Drive for DUI, unlawful consumption of alcohol, illegal parking and no front plate. Also arrested in the incident was Lauren Simpson, 19, of Arnold, Mo., on a warrant and for unlawful consumption of alcohol.
Monroe County Sheriff
Feb. 9 – Annie Grasle of Dupo was arrested on a Monroe County warrant.
Feb. 10 – John D. Patton of Mascoutah was arrested on a Monroe County warrant.
The theft of a deer blind from the 1400 block of Birdie Lane in Waterloo is under investigation.
Feb. 15 – Justin A. Cox of Red Bud was arrested on a Monroe County warrant.
Feb. 16 – Deputies assisted the Red Bud Fire Department in responding to a fire call around 7:30 p.m. at Midwest Auto Creations on Route 3. The wrecked vehicle had been towed to the shop. After arrival at the shop, it caught fire. The vehicle was reported as totaled before the fire. No other damage was reported.
Edward Horn, 69, of Waterloo, was issued a notice to appear on a charge of battery following an incident at 5452 Second Street in Burksville.
Mark Fultz of Belleville was arrested on a Monroe County warrant.
Multiple reported thefts from campers near Moredock Lake in Valmeyer are under investigation. Two TVs, a toaster oven and bottles of alcohol were taken from one camper at 10 W. Moredock Street using forced entry. A battery was removed from another camper sometime between Feb. 1 and Feb. 16. A third camper was also burglarized.
St. Clair County Sheriff
Feb. 15 – The Columbia Fire Department responded to the area of Imbs Station Road just east of Triple Lakes Road for a reported auto accident with possible entrapment around 10 a.m. No other information was available.
Waterloo Police
Feb. 11 – Samantha B. Ahrens, 21, of Valmeyer, was charged with felony identity theft for allegedly using someone's debit card to fraudulently obtain a cell phone from Walmart on Jan. 15.
Feb. 18 – Illinois State Police crime scene technicians assisted in investigating thefts from three unoccupied homes in the Northwinds subdivision using forced entry. Police said all three homes are either for sale or have recently been sold. Two of the homes are on New Brunswick Drive; the other is in the 400 block of Halifax Drive. A contractor arrived at one of the homes on New Brunswick Drive to find the front door kicked in and appliances missing.