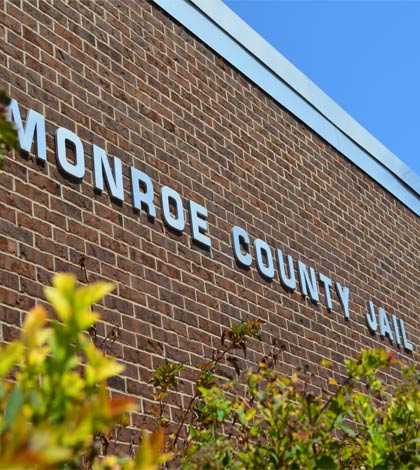 Columbia Police
Oct. 15
Merle C. Pelate, 51, of Columbia, was arrested for domestic battery on West Park Drive.
Oct. 16
Candace M. Zimmer, 25, of Columbia, and Michael T. Johnson, 36, of Dupo, were each charged with unlawful possession of a converted vehicle (2014 Dodge Charger). Zimmer was also arrested for driving while license suspended (second offense).
Oct. 17
Alfred M. White, 22, of Granite City; Tiffany K. Ross, 32, of Wood River; Aryan D. Ramirez, 18, of St. Charles, Mo.; Timothy W. Focht Jr., 21, of Granite City; Jordan L. Gierer, 22, of Gillespie; Zahn E. Brenkendorf, 22, of Granite City; Nathan P. Wolfe, 24, of Edwardsville and Adam Tedder, 26, of Granite City, were each cited for soliciting in the city without a license.
Oct. 20
Eva M. Roeschlein, 50, of Columbia, was arrested for DUI and improper lane usage on Veterans Parkway.
Christopher C. Angevine, 39, of Belleville, was arrested for DUI on Route 3 southbound at Frontage Road.
Monroe County Sheriff
Oct. 15
Jeremy D. Busby of Columbia was arrested on a Monroe County warrant on Route 3 at Valmeyer Road.
Sarah D. Martens, 28, of Leavenworth, Kan., was arrested for criminal trespass to property and for no blood alcohol ignition lock device in vehicle when required on Bluff Road at Kaskaskia Road.
A possible report of stolen appliances from a rental property on Hornbeck Road is being investigated.
Waterloo Police
Oct. 16
The case against Frank J. Supancic, 36, of Hecker, was continued. In June, Supancic was charged with felony disorderly conduct following an April 8 incident at 1344 Cody Drive. Court information alleges that Supancic entered the property of Jeffrey Watson "for a lewd purpose and deliberately looked into the dwelling through a window," having previously been convicted of disorderly conduct in Randolph County in 2001 and 2006. He has entered a plea of not guilty to this charge.