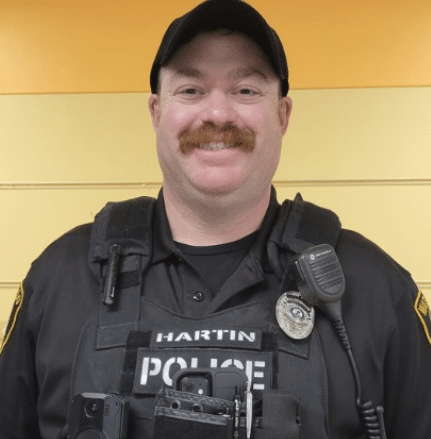 Students and faculty throughout the Waterloo School District are bound to have noticed a new face walking the halls in his newly appointed role for the community.
While the Waterloo City Council has yet to officially vote on whether or not to appoint Officer Brandon Hartin as school resource officer, the Waterloo School Board did approve him at its most recent meeting.
At the meeting, Waterloo Superintendent of Schools Brian Charron commended former SRO Shaun Wiegand for his three years of service to the district, further describing the benefits of having a familiar Waterloo Police Department officer among students.
"This has been a tremendous resource for us to have an officer full-time in our district," Charron said. "The officer spends a majority of time at the high school but does spend time in the other buildings as well and works with our D.A.R.E. program and develops really good relationships with our students. We feel like this is a healthy relationship between us and the police department."
Hartin is originally from Granite City, where he worked for a time as an SRO for Lake Educational Support Services Center.
"I was an officer there for four years," Hartin said. "I was looking to get into a special assignment. Just being able to get in there and try to make a difference with the kids early on with having an interaction with the police was something that intrigued me."
Just earlier this year, Hartin made his way to Waterloo. While he expressed fondness for Granite City, he said it wasn't quite the right fit for his family, who has since found Waterloo to be welcoming.
As Waterloo Police Chief Jeff Prosise recalled, Hartin was hired in June, and his arrival proved to be a rather happy coincidence for the department.
"We were looking for someone to fill the position because Shaun Wiegand was coming out of the school," Prosise said. "He had been there three years, and we were just doing a rotation to allow other people to take that position. And he said he was interested."
Though not originally hired for his SRO experience, Hartin's prior training made him a perfect fit for the role.
Hartin said he started as SRO during the first week of school, also working at the recent WHS football game.
So far, he's largely been wandering the high school hallways during the day, monitoring lunches and getting to the junior high and elementary schools whenever he has the chance in order to better get to know students throughout the district.
Hartin will also begin teaching the district's D.A.R.E. program later this year, a teaching experience that's new to him but that he's nevertheless excited about.
"The transition into the school has been great," Hartin said. "The staff and even all the students are so respectful. It's been nothing but great so far. The kids like to interact, come up to me and start conversations. Everyone's making it pretty nice to work here so far."
Just as Charron outlined the benefits of having a SRO at the previous school board meeting, so too did Hartin describe the positive impact he hopes to have on the job.
Hartin specifically spoke to his hopes for being a role model for students in the district, teaching life skills and generally having a positive influence on them.
Prosise similarly described some of the benefits of having a SRO in the community, specifically pointing to the relationship that can be developed between the police department and students and faculty in the district.
Prosise himself has experience as a SRO, and his brief tenure working in the district left him with plenty of positive memories and an impact he still feels on occasion.
"I was a school resource officer, I think it was 2004 to 2007," Prosise said. "Ten years later, I still have students coming up to me saying 'Oh, I remember you were our school resource officer.'"