New police pup in Columbia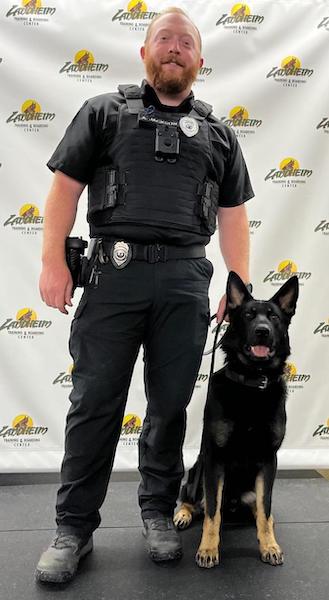 The Columbia Police Department recently welcomed a new member to the team, as police K-9 Cade began his first week on the job after several weeks of training.
CPD Officer Adam Jackson joined Cade on his month of training in Indiana and will be serving as his handler.
Though he doesn't have prior experience with working dogs or police K-9s, Jackson said he's spent plenty of time with pet dogs in the past and was naturally interested in serving as a handler after he was asked.
"I've always been interested," Jackson said. "I've wanted to be a K-9 officer for a very long time, since even before I was a police officer I was interested in working dogs and K-9s. I've never had a working dog, but I've had lots of pet dogs before. I've always admired the work that gets put in to be a K-9 officer, and the finished product has always been very impressive to me."
Jackson offered a bit of insight into what sort of work goes into training a dog for law enforcement duties.
The main trick, he explained, is to make the training exercises fun for the dogs. This could involve having them follow a trail that leads to their favorite toy or sniffing out any particular drug before tossing them a treat, but generally the training has to be rewarding for the animal.
Of course, the main responsibilities of a police dog tend to involve things the K-9 is inherently good at. Jackson said trainers just need to take those talents and put them to use for police.
"These dogs are natural hunters, so when we're doing tracks and stuff like that, it comes natural," Jackson said. "We take something that they do naturally and we apply it to what we want them to do and what we need to do to perform our job."
Columbia Police Chief Jason Donjon spoke to the usefulness of K-9s in law enforcement. He said Cade will be joining two other dogs in the department, Raz and Blu.
Like Raz, Cade will serve as a multipurpose K-9, assisting with drug searches, tracking and apprehension – acting as what is commonly known as a "bite dog" – though Donjon said the community hasn't had much need for that kind of service.
"We don't need them so much with the criminal apprehension," Donjon said. "In my 19 years here, we have had K-9s used that way, that have apprehended people before that were threats, but generally we don't see that here."
Blu does everything Raz and Cade are trained to do, save for apprehension.
Naturally, the animals also see plenty of use throughout the community in demonstrations and various showcasings of their abilities.
"We use them a lot out in the community, either the clubs or the schools or the Boy Scouts or Girl Scouts that would just like a demonstration," Donjon said. "We like taking the K-9s out there and just letting the kids see what they do."
Cade and Jackson began their first week in the department together last Monday. Jackson said that, on their regular patrol shift, Cade will largely be dealing with sniffing out the odor of narcotics in vehicles.
Cade replaces former Columbia K-9 Daggo, who retired last summer shortly before passing away.