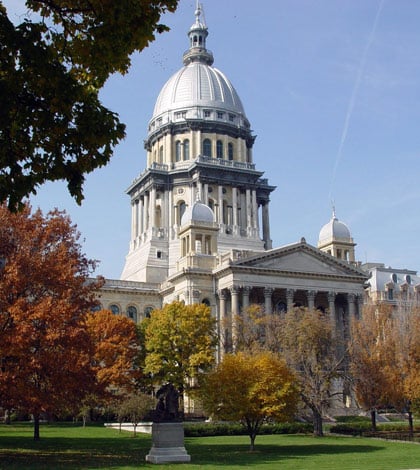 More than 200 new laws will take effect next year in Illinois, many of them on Jan. 1, and several will likely directly affect the daily lives of those in Monroe County and across the state. Here's a look at some of the new laws:
Cell phones while driving:
A statewide ban on hand-held cell phones signed by Governor Pat Quinn will impose penalties on drivers everywhere for using their phones while driving. Talking on a phone using hands-free technology like Bluetooth is allowed, as long as they can be activated by voice commands or a single touch. And, obviously, texting while driving is illegal as well.
If caught by law enforcement, expect a fine of $75 for the first offense, and an increase of $25 for every offense after that up to $150.
Medical marijuana:
Illinois has become the 19th state to allow patients with a doctor's order to purchase medical marijuana from licensed dispensaries. To quality, patients must suffer from at least one of 42 specific medical conditions, undergo a criminal background check, be 18 years of age or older, notify law enforcement if they are stopped while driving that they have permission to possess medical marijuana and give consent to field sobriety tests.
The use of medical marijuana will not be allowed in public, in or while operating any type of motor vehicle, in the presence of minors, on or near school grounds, or in correctional facilities or any building owned by the state.
State-licensed dispensaries will be under the direct oversight of the Illinois State Police.
No tanning for minors:
Unlike the previous law that allowed children under 18 to use tanning beds with parental permission, a new law will prohibit all commercial tanning facilities from allowing anyone younger than 18 to tan unless they have a doctor's permission.
The law doesn't apply to tanning in private homes.
Don't be a litterbug:
A $50 fine can be levied for littering, and this now includes cigarette butts.
Interstate speed limit increase:
The speed limits on Illinois interstates will rise from 65 to 70 miles per hour in all but a handful of Illinois counties. Monroe County is not one of the counties given the choice of opting out of the increase like St. Clair and Madison counties were, so expect to see a faster flow of traffic on I-255 in Columbia.
Traffic cameras on school buses:
Counties and municipalities will have the ability to authorize school districts to install cameras on school buses to record images of vehicles that pass buses while they are stopped. There is no word yet on if school districts in Monroe County plan to take advantage of this expansion of automated traffic law enforcement.
Social media password protection for students:
Schools, from primary on up, will not be allowed to ask a student, prospective student or guardian to provide the password to a social media account. Also, parents, step-parents, grandparents and guardians can read or listen to electronic communications of their minor children, and control the access to electronic communications of the children in their care, custody or control, without opening themselves up to legal action by the children for their actions.
Voting under 18:
Some 17-year-olds will be allowed to vote in primary elections, provided they will have turned 18 by the time the general election rolls around.
Firearm Concealed Carry Act:
As of Jan. 5, the Illinois State Police will begin making concealed carry license applications available to the public. Applicants must have a valid Firearm Owner Identification Card, be at least 21 years old, and have completed a required training course. Note that there are many disqualifying factors. For more information, visit www.isp.state.il.us.
Same-sex marriage:
Same sex couples will be able to marry in Illinois starting in June 2014.