Monroe County shows compassion, concern in wake of protests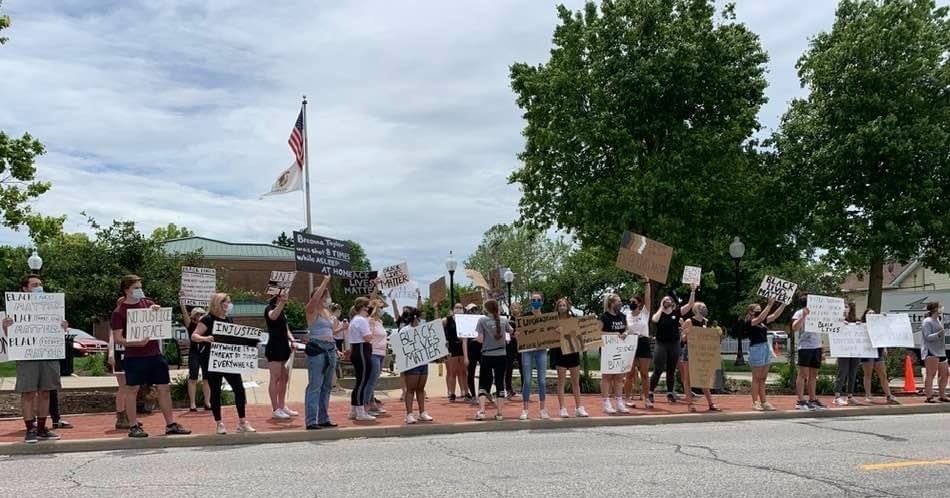 The effects of a nationwide response to the recent death of George Floyd in Minnesota while in police custody has filtered down to Monroe County – albeit in much smaller fashion than large, more diverse cities across the country have experienced.
During a May 25 arrest in Minneapolis, videos show that Derek Chauvin, a white police officer, kept his knee on the side of Floyd's neck for almost nine minutes while Floyd was handcuffed and lying face down. Chauvin has been charged with second degree murder and three other ex-officers are charged in connection with the incident.
Many of the largest cities in America have seen a mix of peaceful protesting and violent destruction and fires with looting over the past week. Locally, there have mostly been small public displays of those seeking awareness of racial injustice while others have also expressed support for those law enforcement professionals who serve with integrity and honor.
Several younger residents of the county, carrying signs, marched from Bolm-Schuhkraft City Park down Main Street to City Hall in Columbia on Thursday afternoon in a peaceful protest. The gathering of more than 50 people was organized by 2019 Columbia High School graduate Mia Boyer-Edwards and B Phillips.
"We wanted to do this because racism isn't just in large cities; it's in small towns as well," Boyer-Edwards and Phillips said. "We need the citizens of our small towns to realize this so that we can help our neighbors with their issues with racism. The people of Monroe County need to understand that racially motivated violence, threats and murders can happen anywhere. Even if racial violence doesn't reach the point of death, it's still important to protest it and help others realize that it happens."
"We were there with the group at City Hall," Columbia Police Chief Jerry Paul said, adding that Columbia Mayor Kevin Hutchinson and Columbia City Administrator Doug Brimm were also on hand. "No problems at all."
Columbia Deputy Police Chief Jason Donjon also attended Thursday's protest, kneeling beside some of the younger residents.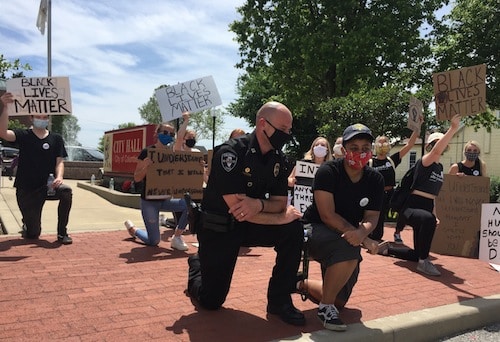 "These kids are incredible," he said. "I taught most of them in Safety Town and fifth grade DARE. The CPD is proud to stand/kneel with them for unity."
Waterloo residents are planning a similar protest for Saturday, June 13. Titled "Waterloo Speaks," a stationary peaceful protest is set for 1 p.m. in front of the courthouse. For more details on this event, click here.
As a precaution amid violence that erupted early this week in St. Louis following Floyd's death, both Walmart and Rural King in Waterloo temporarily removed firearms from the displays in their stores.
"We have temporarily removed firearms and ammunition from the sales floor in some stores out of an abundance of caution," Walmart said in a statement. "Those items are available for purchase, but are being stored in a secure room."
Monroe County law enforcement personnel took precautions Tuesday night after receiving reports via social media that South County Center just across the river in Missouri and some area Walmarts could be the meeting spots for protests and/or looting. Despite plenty of rumor and speculation, however, there was nothing substantiated in regard to protests occurring there or in this county.
This chatter followed looting and damage at several businesses throughout St. Louis and four police officers being shot during violent unrest that took place Monday night.
Columbia police conducted extra patrols throughout its city and the Monroe County Sheriff's Department was also prepared to assist with any needed safety measures Tuesday night.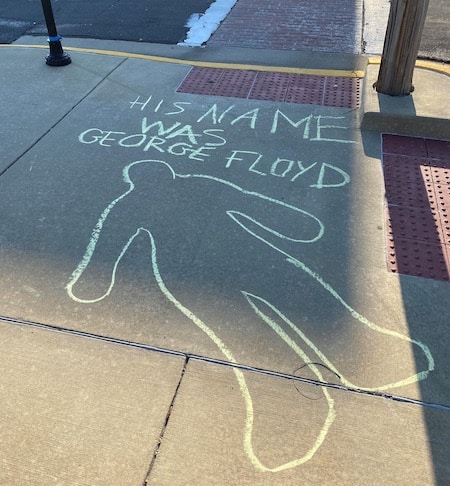 "We're certainly aware of what's going on around us and are taking the appropriate measures," Paul said.
Waterloo police stationed officers and vehicles at the entrances to Walmart late Tuesday night.
Monroe County law enforcement agencies joined the Monroe County Emergency Management Agency in issuing a statement of assurance to the community that they are watching these events closely.
"During this time of unrest and uncertainty, we want to assure the community that we are continuously monitoring and preparing for the safety of all citizens," the statement said. "All of our county agencies continue to work together, communicate daily and meet regularly on proactive approaches and procedures if any unfortunate events would transpire in the county."
These agencies also encouraged residents to watch for official information posted by the police departments themselves.
"During these times, some stories that arise are not true and can cause fear as well as confusion throughout," this statement said. "Posts you see on unofficial pages or websites might be false and misleading."
Another way to stay informed for emergencies or important messages, these agencies said, is to sign up for the Code Red emergency notification system. To sign up for Code Red, click here or call the Monroe County EMA at 939-8681, ext. 534.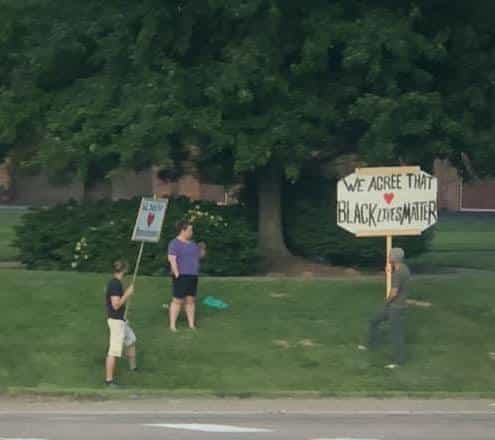 Motorists driving on Route 3 could see a few local residents holding signs in peaceful support of the Black Lives Matter movement outside of Columbia High School early Tuesday evening.
Wednesday morning, some downtown Waterloo business owners reported words and symbols written overnight in both paint and sidewalk chalk that showed support for the same movement.
Waterloo Mercantile Co., located at the intersection of Main and First streets, reported the message "#BLM" painted in yellow on the side of its building.
"For those that know Jenny and I, we are the farthest thing from racist, feel for all the folks hurting in our country and pray for them and this situation daily," Waterloo Mercantile co-owner Dennis Bullock posted on Facebook.
Other locals took to Facebook and other social media platforms to express solidarity with Black Lives Matter.
"I don't say this to argue with anyone. I don't say this to degrade some of my friends in law enforcement who I know to be decent, kind and respectful people. I don't say this to ease my own guilt. I say this because I believe it and I think it is time for more people to think about the meaning of the statement and not get indignant or defensive but really examine their own fears and biases. Black lives matter," Waterloo resident Mitch North wrote in a Facebook post. "Until I'm part of the solution, I'm part of the problem and I can't let my own fears and comfortable existence be an excuse for that anymore."