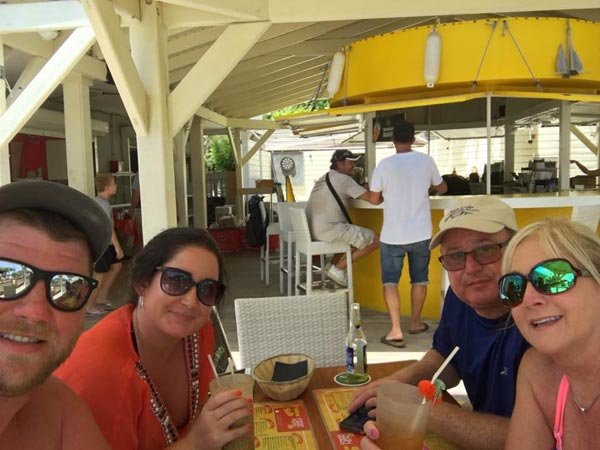 Four Millstadt residents who were stranded on the Caribbean island of St. Maarten after Hurricane Irma caused flight cancellations and the evacuation of more than 1,200 Americans have since found their way home.
Preston Burd, Kati Burd, Cheryl Adams and Blake Hogge arrived in St. Maarten for a relaxing getaway Sept. 1, before reports of Irma began circulating. Adams said on Facebook Monday night that the group had finally gotten off the island and were headed to a connecting flight.
"It was definitely a terrifying experience. We are so lucky to be alive," she said. "The whole island is destroyed. My heart goes out to all of the residents of St. Maarten and their families. While we finally made it off the island… they are left there to try to pick up the pieces to their lives. 
"We met some wonderful people who helped us along the way. The hotel that we were evacuated to in Marigot Le Beach Hotel was completely destroyed. Luckily, no serious injuries. We had to stay in the hotel until Friday due to the fact there was no other place to go.
"We were scared that if we had to stay in the hotel when (Hurricane) Jose passed through that we wouldn't make it. Thank God Jose never came in hurricane strength…. only a little rain. I'm glad that I don't have two hurricane stories to tell and happy that we are alive to tell it."
The four had found themselves evacuating their vacation resort for a safer area of the island in the back of a pickup truck last Tuesday. But even with the evacuation, the group had ended up right in the middle of some of the severe weather that Irma wrought.
"Well, right now we are in the eye of the hurricane," Adams said the day after their evacuation. "A lot of damage outside but we are all OK for now. No power or water. Will keep y'all posted. Getting ready for the backside of Irma."
Christina Gravot, a friend of these four travelers, had called the Republic-Times on Saturday to tell of their situation.
"We want everyone to be aware that there are still people, not just my friends, but U.S. citizens that haven't been evacuated from the island," she said.
Irma has diminished to a post-tropical cyclone after hitting landfall in Florida over the weekend. The U.S. Department of State is urging people to contact the department with information on any U.S. citizens in areas affected by Hurricane Irma.
Email IrmaEmergencyUSC@state.gov, visit tfa.state.gov and select "2017 Hurricane Irma," or call 888-407-4747.
Volunteers are needed to help in the aftermath of Hurricane Harvey in Texas and in preparation for the potential impact of Hurricane Irma in Florida and elsewhere. The American Red Cross is offering intensive training for anyone interested in deploying to assist.
The Red Cross deploys volunteers to areas of disaster by matching up their skills with the needs of that community.
Volunteers' travel costs, food and shelter during their deployment are covered by the Red Cross. Individuals who complete this intensive course may be eligible to deploy for 14 days to assist in shelters. Assignment to assist with Hurricane Harvey or Hurricane Irma is not guaranteed due to the changing needs.
Pre-registration is required. For more information, call 605-336-2448, ext. 2323.