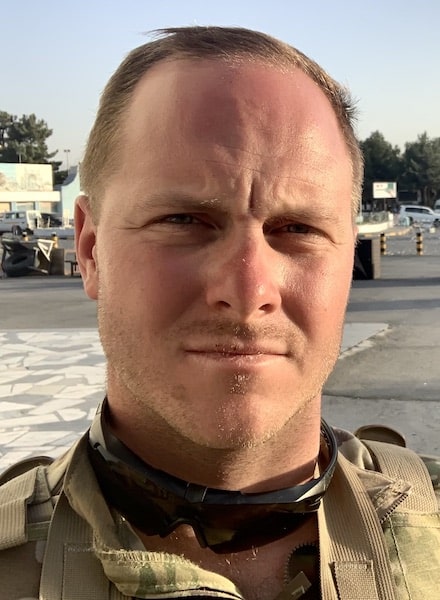 April marked the second anniversary of the beginning of the end of the U.S. War in Afghanistan, with the nation's withdrawal from that country taking place through the end of August.
Plenty of stories – most of them tragic – have been told as soldiers have departed and returned from the two-decade war.
Locally, one former resident of Columbia reached out to the Republic-Times to discuss his experience in Afghanistan at the very end of the withdrawal – including how close he was to the final bombing of the war.
Though he currently resides in St. Peters, Mo, Ethan Groce is originally from Columbia. After graduating from high school, he moved out-of-state to attend Wake Forest University in North Carolina.
In the beginning, he had no intention of joining the military out of school, but a number of forces eventually pushed him toward the U.S. Army.
Among these were his freshman roommate in college who was in the Army ROTC program and a number of family members who had occasionally spoken about their time in the Army when he was young.
Groce also mentioned an eighth grade experience when Dustin Row – known locally as organizer of the combat veterans charity Songs4Soldiers – came to the class to speak about his experience in the military.
"That did have an indelible impact on me, his story of his deployment, his story of losing friends and just his story of courage," Groce said. "It stuck with me all those years."
While Groce acknowledged his drive to join the Army was somewhat cliche, he found himself training at Fort Jackson in Oct. 2017.
After this training, he attended the Defense Language Institute Foreign Language Center in Monterey, Calif., where he studied Farsi and Dari, the two primary languages of Iran and Afghanistan, respectively.
Groce graduated in March 2020, later making his way to Fort Bragg (now Fort Liberty) in North Carolina in August 2020.
Roughly a year later, Groce would find himself shipping out to Afghanistan for the tail end of the war.
He didn't expect to wind up there, however. As Groce told the story, his supervisor reached out to him one afternoon saying a number of linguists would be sent to Qatar and Kuwait.
Joined by two fellow linguists he knew and three others he came to know, Groce flew across the Atlantic, eventually landing in Germany where they learned Qatar was not their ultimate destination.
"No one had any idea, obviously, that on the horizon there was gonna be this catastrophic humanitarian event where they would need all of the Persian Farsi and Persian Dari linguists they could get their hands on," Groce said.
As he understands it, Groce and the five other linguists wound up being the only six sent to Afghanistan specifically for the withdrawal, with the plentiful other translation duties handled by native speakers, linguists from other military departments and those already stationed in the country.
Groce noted that, as the process of getting from Fort Bragg to Kabul was so rushed, he and others didn't get a typical briefing. As such, he wound up accidentally bringing his phone and was able to document some of his time in Afghanistan.
With a brief scare on the runway when they weren't immediately greeted in the middle of the night as expected, Groce and a few other soldiers landed at Kabul International Airport, where they would see out the end of the war.
Groce said that as he arrived, the bizarreness of the situation was not lost on him.
"I'm sitting there thinking 'I'm a kid from Columbia, Illinois, had no thought in my mind that I'd be joining the military until the age of 26, and now I'm here landing in Kabul, Afghanistan,'" Groce said.
His group spent a few days settled into a cafeteria that had been abandoned by Norwegian troops, resting and cooking up any food that had been left.
Groce said his first full day there saw the start of his time at one of the airport's terminals, translating between colleagues and Afghani refugees who were hoping to flee the country.
"The last few days I spent in Kabul, I was at the south gate, and the south gate was where the main civilian terminal was located – and that ended up being where we got the most Afghan refugees out," Groce said.
That was what he did for the two weeks he was in Afghanistan, working with refugee after refugee to make sure any necessary documentation was in order for them to get on a plane to somewhere else.
This work, Groce said, also involved frequent interactions with members of the Taliban – which were often, as expected, somewhat tense.
"I don't know if a lot of Americans understand this, but the way we were doing a lot of the refugee registration to get them on planes was we were speaking directly with Taliban members," Groce said. "So the Taliban would give us a list of people they were willing to send out. We go over that list, make sure it matched with our list of refugees that we were planning to send out. And then, if everything looked good and they still liked us that day, they would send those people through the gate, and we would get them on the plane."
In that time, the notorious Kabul Airport bombing took place, killing over 150 Afghani refugees and 13 U.S. service members.
Groce said he was at a different gate from where the attack took place. While he did hear the bombing, it didn't exactly register amid the other sounds he was used to hearing those two weeks.
"The sad fact about being deployed in a war zone is you hear so many explosions, nothing stands out anymore," Groce said. "So you hear an explosion, it was definitely a little more distinct than the other ones being heard, and it was closer, but you don't think anything about it… Within about 15-20 seconds, that's all it took, calls were coming over the radio that that was a suicide bombing and there were mass casualties."
While Groce didn't get into too much detail about events after the bombing, he did note Jared Schmitz, a Marine who died in the bombing, was from Wentzville, Mo., which is close to where he now lives.
Groce's story ended with the end of the war.
With refugee evacuation efforts shutting down by the end of August, he and fellow military service members were focused on getting everything prepared for their own departure.
As Groce described, he and several hundred other soldiers were just a few hours from breaking the agreement made with the Taliban to evacuate by the end of Aug. 31.
Specifically, Groce said he was on one of three planes that left within five minutes of midnight – one of which contained Lt. Gen. Chris Donahue.
"I think it would be fair to say I was one of the last, let's say, two or three hundred American soldiers on Afghan soil," Groce said.
As he pointed out, the end of the war didn't involve much fanfare. After a 20-year operation, Groce said it seemed as though people simply wanted to forget about the war as quickly as possible.
He noted that, just a few months later, the U.S. would once again begin contending with a conflict as Russia started its invasion of Ukraine.
Though that war continues, those involved in the War in Afghanistan are still left with stories and experiences – tragic or otherwise – some of which center around a few short days at Kabul Airport.