MCSD sergeant honored for bravery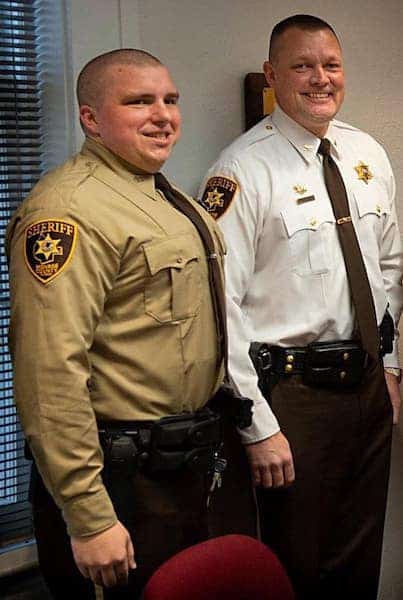 Monroe County Sheriff's Department Sgt. Eric Waszak was recently recognized for his work as a member of the Metro East Special Weapons and Tactics team.
The SWAT team received a Unit Award during the recent Southern Illinois Law Enforcement Commision/Southern Illinois Police Chief's Association Awards Banquet in Fairview Heights.
The team was nominated for its courage, determination and poise under firearm attack during an incident in Belleville on Aug. 11, 2022.
On that date, the Belleville/St. Clair County Regional Special Response Team and Metro East SWAT responded to 113 Bradford Place in Belleville at the request of the St. Clair County Sherriff's Department.
Early that morning, police had responded to that address in reference to a domestic disturbance. Upon arrival, deputies were shot at through the door of the residence. Deputies were not struck by gunfire, but the suspect refused to surrender peacefully.
Once on scene, operators of the special response team used a public announcement system to try and negotiate a peaceful surrender of the suspect. All attempts were unanswered and unsuccessful.
After several minutes and still no response from the suspect, the front door of the residence was breached using a ram attached to the armored personnel carrier referred to as a Bearcat. As the door was breached, the suspect fired his weapon at the officers and struck the Bearcat.
Eventually, the suspect exited the apartment, unarmed, and bleeding heavily from the chest from a self-inflicted gunshot wound.
Acting quickly, officers took custody of the suspect, who was actively asking to die, and immediately carried him to an EMS team already on scene. The suspect was provided lifesaving treatment and survived his wounds.
Working as a team, these specialized units put themselves in harm's way to protect the community and other law enforcement officers from an armed and violent suspect who had shot at deputies earlier that morning. When the suspect attempted to take his own life, officers from these units acted quickly and decisively to save it.