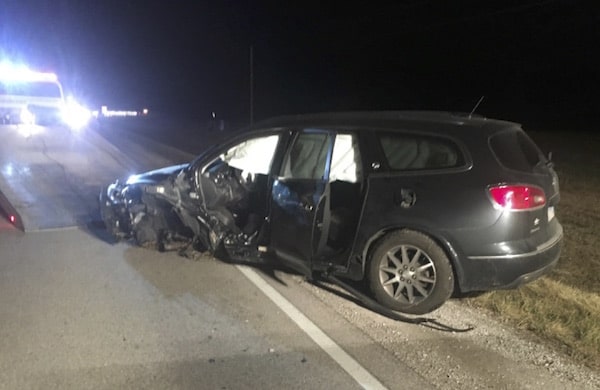 A Missouri man was airlifted for injuries sustained in a head-on crash early Wednesday night in the 3800 block of Douglas Road near Floraville Road in rural Millstadt.
St. Clair County Sheriff's Department deputies responded to the crash at about 6 p.m.
Police said a 2008 Cadillac driven by Daniel F. Ward, 32, of Cadet, Mo., was traveling west on Douglas Road and swerved into the eastbound lane for unknown reasons, colliding partially head-on with a 2013 Buick driven by Bradley J. Smith, 54, of Smithton.
Ward was transported by ambulance to Belleville Memorial and then airlifted to Saint Louis University Hospital for treatment of serious injuries.
Smith was also transported to Belleville Memorial Hospital for treatment of injuries sustained in the crash.
Ward was found to be driving on a revoked driver's license, police said, adding it does not appear alcohol played a role in the crash.