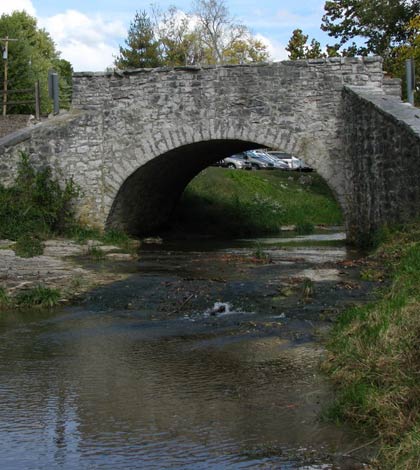 At the entrance to historic Maeystown sits a rock bridge nearly a century-and-a-half old over Maeystown Creek, marking the entrance to the village.
The bridge represents Maeystown's claim to fame as a nationally registered historic place — that, and the original Maeystown stone church, Zeitinger's Mill, Maeys' log house and other such treasures.
But for Maeystown residents, the bridge stands for much more than history. The mason-brick crafted structure is a part of their everyday lives.
Maeystown Preservation Society property manager Christy Muertz wants to do whatever she can to ensure that residents' way of life doesn't change, even if that means raising money to repair basic wear and tear to the bridge.
"We're hoping we can get someone in there to do it right so we don't have to worry about it for a long time," she said of the repairs needed.
Unfortunately, "doing it right" doesn't come cheap, as the bridge will need repair work from expert masons. Muertz said the preservation society received a bid from one company of $35,000.
In addition, she plans to look at bids from two other companies, but expects to pay pretty close to the original bid. Muertz explained the bridge needs tuckpointing. Rocks are falling out, leaving holes and cracks in the bridge.
"When one rock falls out, more rocks start falling out," she said.
Muertz elaborated that the bridge does not need immediate repairs, but the society wants to get out in front of the situation before problems occur.
"The county came down and inspected the bridge, and it is structurally safe to drive on, but that's why we're starting now because we know it's going to take us a year to do this," she said.
According to Muertz, the inspection took place in the summer and she hopes bridge repairs will start within the next 18 months.
To donate to the rock bridge fundraising campaign, go to gofundme.com/maeystownbridge or mail a check to Christy Muertz at 3265 Bushy Prairie Road, Fults, Ill., 62244. Checks can be written out to "Maeystown Preservation Society: Save the Bridge."
The society decided to take on this fundraising effort when the village established it does not have the funds to cover the repairs. Additionally, Muertz said people donating will benefit from the society taking over the project since it is a 501(c)(3).
"It got brought up that (donors) could use it as a tax write-off," she said.
Maeystown's Oktoberfest is the society's annual fundraiser, with money raised going to maintaining the organization's facility at the rock mill and museum, buying and refurbishing properties in the village and other beautification projects.
Proceeds from additional fundraisers at this year's Oktoberfest went to the bridge fund.
So far, a total of $1,427.27 has been raised for the repairs. That leaves more than $33,000 left to raise. With a population of about 150, Maeystown will need help from donors across the St. Louis region to reach that goal.
"We're hoping to try to reach (St. Louis residents) as well and not just the Monroe County people," she said.
She added, "The most compelling reason to donate is that (the bridge) is 138 years old, it's beautiful and people get a lot of enjoyment out of it and we want future generations to continue to get enjoyment out  of it."
The village is also looking for funding from grants to help pay for the repairs.