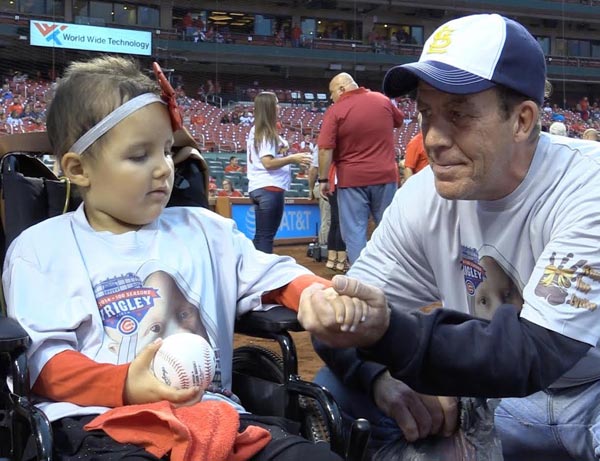 For a moment, 6-year-old local cancer warrior Lydia Boyer became the star last Wednesday at Busch Stadium as she threw the ceremonial first pitch to St. Louis Cardinals pitcher Carlos Martinez.
The entire ballpark observed the momentous occasion plastered on the jumbotron, along with many friends and family. After Lydia delivered a perfect strike, the stadium erupted and Martinez handed her the ball with his autograph and the message, "God bless you, Lydia."
"She loved it. She didn't want to leave the game, which is awesome," Lydia's father, Josh Boyer, said.
Coincidentally, the Columbia Middle School and Columbia High School choirs were at the stadium that night to sing "God Bless America."
"We sing every year at Busch Stadium, so this year was a surprise to have the added addition of Lydia throwing out the first pitch," said Sara McGinthy, CMS and CHS choir director. "It was Columbia night on the field! Many of my choir students go to church with Lydia, so they were happy to see her do something so special."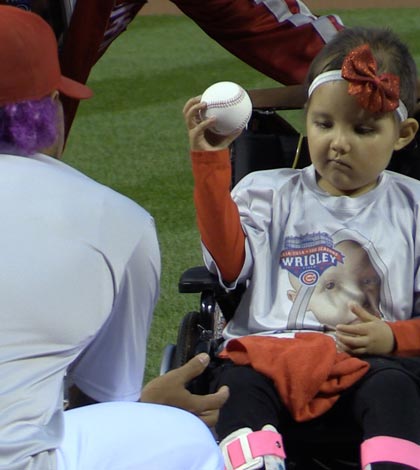 Jim Hickey of Queens, N.Y, who began walking from Wrigley Field in Chicago to Busch Stadium on Saturday to raise awareness to Lydia's plight, wanted her to be able to throw out the first pitch after seeing she had done so during a Columbia vs. Waterloo high school softball game last season. 
KMOX 1120 AM operations director Steve Moore then pulled some strings to make that happen. Josh, who has had many people contact him about Lydia, said he was pleasantly surprised to see the events unfold.
"People say a lot of stuff to us when they hear Lydia's story, like, 'Hey, I'm going to do this,'" he said. "Or sometimes people will contact us and say they were touched by Lydia and they want to know if they can wear a bracelet in her honor, and we say, 'OK, sure.' But I didn't expect meeting him or any of this happening."
Hickey came across Lydia's story when he went on the Facebook page of Brooke Stanton, a New Jersey resident who passed away from childhood cancer in June. Hickey had been affected by the terminal illness more than 20 years ago when his dad died of prostate cancer, and had wanted to walk for Brooke because of it, though he ended up being too late.
"I can't explain it. I was just drawn to her," he said of Lydia.
At the beginning of the month, Hickey came down to Columbia to meet Lydia, and the two developed an instant connection. He then took to Facebook, saying, "words cannot explain the courage and bravery I saw in her …"
"My heart stopped," he told the Republic-Times about meeting Lydia. "You know, you think about what's wrong in your life — and she's such a sweet little girl. She never complains. 
"She says 'yes sir' and is so polite and has so much fun. And it kills me to see a child going through that. There's no reason for that. How bad can things be in your life when you see what she's going through?" 
At first, Hickey had said he didn't plan to attend the ceremony at Busch Stadium but decided to go for the sake of their friendship.
"Originally, I hadn't planned to go. But then I started talking to a lot of people, and they were saying things like, 'Wait a minute, you helped put all of this together and you're not even going to be there?'" he said. "And I said, 'You're right, that's messed up.'"
So Hickey stood among friends and family as Lydia received the honor of a lifetime in front of thousands of Cardinal fans and players. Also in attendance was Michelle Maldonado, Leah Brewer Acup and Hector Maldonado of Aztec Construction in Dupo.
Aztec Construction arranged for Lydia to meet Cardinals outfielder Stephen Piscotty after meeting Hickey and hearing what he planned to do for Lydia. 
"About a week ago, a man walked into our office that we didn't know, vibrant in personality and clearly passionate about his efforts," Acup said on Facebook. "That led to Jim telling us about arranging to have Lydia do the first pitch at an upcoming Cardinals' game. 
"That led to us saying 'Hey, we have done work for several of the players and most recently Piscotty and Martinez, maybe we can make something happen.' With the help of many people, we had the honor tonight of watching that all unfold. 
"We met a beautiful little girl who melts your heart in a split second, along with her amazing brothers, mom, dad and aunt."
During his interaction with Lydia, Piscotty gifted her a baseball bat with his signature and the message, "We're praying and rooting for you! Go Cards!"
"(Martinez and Piscotty) were so genuine and so personable. (They) were just talking to her," Josh said. "And that's what we liked was they approached her directly."
Josh posted a video on Facebook of the entire exchange and of Lydia throwing out the first pitch. At one point, when Piscotty bent down to get closer to Lydia, she leaned in to kiss him on the cheek.
"This has been pretty stinking amazing," Josh says as he turns to face the camera.
Piscotty also kindly accepted a Lydia t-shirt from Hickey, which reads, "On foot for #LydiaStrong," with the Gateway Arch connecting an image of Wrigley Field at the top of the shirt and a Busch Stadium graphic at the bottom to symbolize Hickey's walk for Lydia. 
The shirts were designed by ANI Apparel in Columbia.
E.V. Creations in Columbia also designed shirts with a childhood cancer awareness ribbon, the Cardinals logo and the words "Hope For Lydia. Medulloblastoma Awareness."
For information on ordering a shirt from ANI Apparel, call 281-3090. Go to the E.V. Creations Facebook group to order a shirt from E.V. Creations.
Josh described Lydia's condition as stable, and that a spot on her spine is being watched but remains unchanged.
"She's in good spirits. She feels pretty good, but there's some chronic pain at night," Josh said.
Additionally, a Tuesday afternoon post to the Hope For Lydia Facebook page reads that her platelet count is at 79 and needs to get up to 100.
"We could use prayer for clarity about Lydia's current treatment plan," the post adds. "Her oncologist is considering possibly changing it due to the tumor still on her spine, although it's not growing it's still not shrinking."
Hickey said Tuesday that he is not as far along in his walk as anticipated, and is hoping to arrive in St. Louis on Oct. 18 to push Lydia the last mile. He is currently outside of Bolingbrook in the west suburbs of Chicago.
Josh said he is encouraged by Hickey, because not enough people are aware of the  number of children facing childhood cancer and of the lack of advancements in treatment.
"The most important thing this is doing, well it's actually two-fold. One is that it's helping keep Lydia's spirits up and helping her to feel like a normal 6-year-old girl," Josh said. "Because, believe it or not, this is actually pretty normal for her and close to what her life was like before.
"She was a sweet little girl that everyone wanted to be around and talk to. And the other thing is the awareness that it brings. That's so important to us is that awareness … With Lydia and what Jim is doing, it's accomplishing both of those things."