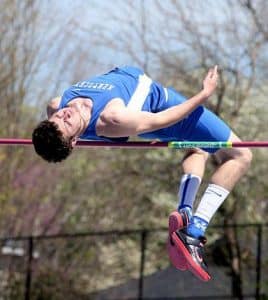 There are several locals competing in varsity college athletics in various sports throughout the county, some at the very highest levels.
Here is a roundup of recent high school graduates who played sports at the college level over the past school year.
Baseball
Gibault graduate Wes Degener enjoyed a banner sophomore season with the Lindenwood University-St. Charles baseball team, hitting .385 with 16 stolen bases, seven triples and five home runs. He was named first team all-conference in the Mid-America Intercollegiate Athletic Association.
Waterloo High School grad Ethan Ruff also had a great spring, hitting .362 with 36 runs scored, 11 doubles and 28 stolen bases while playing flawless outfield defense at Lindenwood University-Belleville. He was named to the NAIA Gold Glove Team for his efforts.
Ruff's Lindenwood teammate, fellow WHS grad Alex Wittenauer, played in 28 games this season, hitting .222. He also went 1-2 with three saves on the mound.
Another WHS grad, Jeremy Rettig, went 5-5 with two complete games and 30 strikeouts in 10 starts while pitching for Mineral Area College.
Gibault grad Zach Neff, a left-handed pitcher, went 1-7 in 25 mound appearances, including six starts, at Austin Peay State University.
The Southwestern Illinois College baseball team featured locals Corey Vogel, Austin Nunnery and Ryley Wallin this past spring. Nunnery went 2-1 in 15 pitching appearances, including six starts. Vogel, a lefty reliever, went 2-0 in just more than 17 innings pitched. Wallin had a home run in 14 games played.
Valmeyer grads Hunter Brewer and Zach Williams each saw limited action on the Lewis and Clark Community College baseball team.
Gibault grad Chandler Purcell collected six RBIs at the plate in 13 games played as a freshman infielder at Quincy University.
WHS grad Tyler Hebel had a great season for St. Xavier University, an NAIA school in Chicago. The righty starter went 7-2 with a 2.96 ERA, 65 strikeouts and three complete games  in 17 games pitched.
Another WHS grad, Logan Mueth, hit .343 with nine runs scored in 17 games as an infielder for Fontbonne University.
Columbia High School grad Josh Fleming, a lefty pitcher, went 4-1 with a 2.88 ERA and 50 strikeouts in six starts at Webster University.
Fleming's former teammate at CHS, Zach Mathews, played in four games at St. Louis Community College.
Softball
A number of former CHS standouts played at the college level, including Indiana University senior catcher Kassi Farmer. She was named to the Academic All-Big Ten Team for the third time, hitting .216 with a home run and 10 RBIs.
Another CHS grad playing Division I softball is Taryn Pena. She dazzled in her freshman season at Drake University, hitting .333 with four home runs, 34 RBIs and 33 walks while starting all 54 games. Pena was named to the All-Missouri Valley Conference Second Team.
Former Eagles pitching ace Brianna Weilbacher completed her sophomore season at Iowa State University, where she went 0-2 in nine games, including five starts. She pitched in 27 games as a freshman.
CHS grad Rachel Garcia started all 53 games at Missouri Baptist University, hitting .284 with 10 doubles, six home runs and 27 RBIs.
Former Eagles teammate Caitlyn Touchette hit .259 with three home runs and 22 RBIs on the Lindenwood University-St. Charles softball squad.
Two key pieces of the amazing 2015 WHS softball team played at the college level this past spring.
Emelia Modglin hit .416 with a .646 slugging percentage, four home runs, 35 RBIs, nine stolen bases and 14 doubles at Fontbonne University. She was named 2016 St. Louis Intercollegiate Athletic Conference Newcomer of the Year and made first team all-conference.
Her former WHS teammate, ace lefty pitcher Kasey Bradley, went 4-9 with a 4.88 ERA in 17 games at Quincy University.
Football
Columbia has a few recent graduates playing college football, led by Grant Snow at Division I Drake University. Snow, a 6-foot-2, 280-pound junior offensive lineman, started the final eight games of the season last year and will be looked upon for more playing time in 2016.
Former Eagles running back Lou Isringhaus rushed for 49 yards on 26 attempts last season at Missouri Baptist University.
Columbia's Cole Foster played five games on the offensive line in 2015 and was named to the Academic All-Great Lakes Valley Conference Team at McKendree.
Soccer
Monroe County is rich in soccer talent, and that extends to the college ranks. WHS grad Daniel Gardner played in 17 games last season at Bradley University recording an assist and six shots.
Another former Bulldog, Keegan Gordon appeared in 16 games as a freshman at Bellarmine University, collecting two assists.
Former Gibault standout Andrew Reinholz played in two games on defense at Rockhurst University.
Former CHS standout Andrew Dossett plays at Brigham Young University, which does not compete in a college conference but plays against teams from the USL Premier Development League.
University of Missouri-St. Louis senior midfielder Jon Huelsman of Waterloo was named to the Conference Commissioners' Association Division II Men's Soccer All-Midwest Region First Team.
Huelsman led UMSL with eight goals, including four game-winners, and added two assists.
In girls soccer, Columbia's Lauren Tolan and Waterloo's Catherine Hawn played for Missouri S&T.
CHS grad Lauren Kaempfe played in 22 games at Southeast Missouri State University, scoring two goals with two assists.
Volleyball
Columbia's Megan Huffman and Valmeyer's Bree Whittington were members of last season's volleyball squad at Missouri Baptist. Whittington was named to the All-Conference All-Academic Team.
Columbia's Lynsey Wehrenberg recorded 300 digs and 561 assists at Fontbonne University and was named to the 2015 SLIAC All-Academic Team.
Gibault's Courtney Schutt played in 25 matches, recording a career-high eight kills in three separate matches for University of Illinois-Springfield.
Track and Cross Country
Waterloo's Justin Kretchmer was the 2015 SEC Outdoor High Jump Champion in 2015 at the University of Kentucky. At the Kentucky Relays in May, he placed third with a jump of 6 feet, 10.75 inches.
Waterloo's Lance Mueller ran at Saint Louis University, placing first in the 3,000 meter steeple at the Billikin Invite on April 8 and third in the 1,500 meter run at the Tom Belt Invitational on April 15.
Brothers Cole and Joshua Rodenberg have both enjoyed success in distance running at Bellarmine University.
Yet another WHS grad, Will Zeisset, runs cross country at Millikin University.
CHS grad Ashley Myers runs cross country at Lindenwood-St. Charles.
Other sports
Gibault golfing great Sam Range saw action in two spring tournaments at Bradley University, carding a 76 in the second round of the Bradley Invite.
Gibault tennis great Michael Lesko played in nearly 30 matches for Quincy University in singles and doubles. He went 4-20 in singles and 1-4 in doubles play.