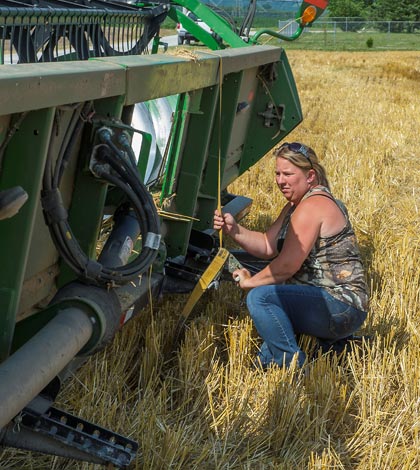 The first of the "big three" field crops in Monroe County is  being harvested in earnest and heading to market.
This is so-called "winter wheat," which was planted in the late fall, and emerged early in the spring. Early reports of this year's crop are positive.
Corn is also accelerating out of the ground, and in many places, first planting soybeans are also getting started in green rows.
Following close to 10 inches of rain just two weeks ago, the weather shifted gears, with warm, sunny, breezy days.
This is fun for outdoor family activities, but it is critical for the wheat harvest.  The warm weather has accelerated the change from green to gold and prepared the wheat for harvest.
The Republic-Times visited the John Riechmann family last week in one of their fields in the bottoms, on B Road west of old Valmeyer, and observed two large John Deere combines and a pair of tractor-trailer grain haulers taking advantage of the week's great weather.
As the family group of John, son William and daughter-in-law Jaimie Riechmann finished the field there, they paused briefly – but not for long.
"The wheat looks good here," Jaimie said. "We want to get this all out while the weather's like this and then come in a double crop with beans."
Then it was time for William and John to swing huge combine cutters onto trailers to move them to the next field.  The heads – up to 35 feet long – have to be positioned precisely to safely transport them.
Then Jaimie scurried in to lash each one down.
It was 4:30 p.m. — a time when many non-farmers are getting off work and heading home, or are already on the road. The Riechmanns were indeed heading out on the road, too – but to their next field near Harrisonville, where they would either work until they were finished or settling dew would bring a halt to their work, probably quite late in the dark, as dry as it has been.
Then they, too, could head home.
Former Monroe County Board Chairman Terry Liefer reported he had just started harvesting wheat in the bottoms last Wednesday, and while it was early, he said the wheat quality was very good and neighboring farmers were seeing yields in the area of 70 to 120 bushels per acre.
"It varies in many places, according to the conditions from the spring flooding," he said.
He said farmers are working hard to get the crop in, hoping to beat any future rain.
"Rain's hard on wheat," he added
Liefer concluded that in the best of worlds, farmers would get their wheat harvested, plant beans, and get an inch of rain – in that order.
Gateway FS grain buyer Phil Saale provided his perspective on this year's wheat crop.
"We are seeing no negative quality issues this year," he said.
This is a relief after the last two years saw a number of concerns, such as rust and other quality problems. Saale said he expected to see many fields finished by this weekend, with beans going in quickly afterword.
"Prices are flat again," he said.
As of Friday, wheat was bringing $4.45 a bushel as delivered to the elevators.
"There is a great deal of foreign competition, especially in wheat," he said.
There is also a holdover of more than 1 billion bushels from last year's harvest, preventing a return to $5 and $6 per bushel prices.
But farmers are optimists by nature. And they don't mind hard work, as evidenced by the Riechmann's last week – finishing one field, loading up and heading down the roads to the next one when the rest of us are deciding what we'll have for dinner.
"Farmers are used to putting two days of work into one," Liefer said.
As a precaution, readers should be mindful of the frequent moves of large farm machinery and trucks on local roadways this time of year. Even if you have to slow for a couple of miles, pass safely and think about offering a friendly wave.
Farmers appreciate your understanding, and everyone gains from their success.