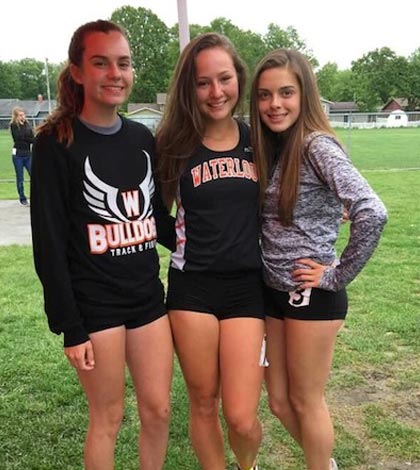 Three girls from Waterloo and one from Columbia qualified for next weekend's IHSA Class 2A state track meet by virtue of impressive performances Thursday in Salem.
Waterloo super sophomores Jenna Schwartz and Ella King both qualified for state in the 3,200 meter run at the Salem sectional. Waterloo senior Libby Price qualified for state in the 800 meter run, and Columbia senior Kelsey Weatherford qualified for a return trip to state in the pole vault.
Schwartz ran a time of 11 minutes, 28.89 seconds to win the 3200, with teammate King placing second at 11:40.62. Both will run May 20 in Charleston.
Price placed third with a time of two minutes, 20.37 seconds in the 800, breaking the WHS school record by two seconds. She will run May 19 in Charleston.
Weatherford tied for second in the sectional at nine feet, six inches in the pole vault.
Waterloo freshman Maddie Valerius just missed qualifying for state in the 400 meter run, placing third with a time that was just .29 seconds behind the second place runner.