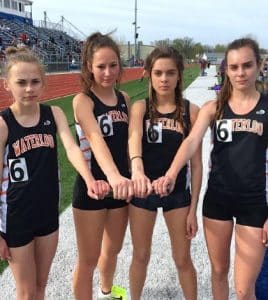 The high school track season is off to a strong start this spring, with some records broken in the process.
The Waterloo High School track team has broken four school records this season.
The girls 4×800 meter relay team of Jenna Schwartz, Libby Price, Ella King and Rachel Patterson set a new school record in the event with a time of 10:15.34 at last week's Freeburg Invitational.
Schwartz has also broken school records in the 3,200 meter run with a time of 11:14 and in the 1,600 meter run with a time of 5:18.14.
On the boys side, Noah Hays has broken the school record in the 400 meter run with a time of 49.74 seconds, and has tied the school record in the 200 meter run at 22.94 seconds.
"So far, it has been a great season," Waterloo head coach Larry Huffman said.
Other notable WHS tracksters include the boys 4×400 meter relay team of Samuel Rick, Noah Hays, Jackson McAlister and Dawson Holden.
Travis Thier also had a triple jump that would be state qualifying if it was at sectional at the end of the year with a jump of 42 feet, eight inches.
"Other notable contributions have come from freshman Maddie Valerius in the 400 with her victory at the Freeburg Invite, Genna Bourgeois in the high jump, Libby Price in the 800, Ella King and Sydney Haddick in the 3200, and Elise Dodel in the discus," Huffman said.
For Columbia, Maddie Vonderhaar placed second in the shot put with a throw of 33 feet, 11 inches in the Greenville Invitational on April 1.
Kelsey Weatherford placed fifth in the pole vault at the same event with a throw of nine feet; Alex Voges placed 11th in the high jump at five feet, five inches for the Eagles.
For Dupo, freshman Ryshelle Williams is emerging as a top area sprinter. She has already broken the school record in the 100 meter run (13.26 seconds), 200 meter run (27.31 seconds), 400 meter run (1:03.83) and indoor long jump (15 feet, 4.5 inches). She placed fifth at the Triad Girls Invitational in the 400.
"The other strong part of our team has been our thrower, Julie Snider, who has thrown 31 feet, three inches in the shot and 105 feet, two inches in the discus." Dupo head coach Kevin Acra said.
For the Dupo boys, Kenny Spisak has thrown 38 feet, 10.5 inches in the shot put and 139 feet, 4.5 inches in the discus, and sophomore Bryce Chadduck in the discus with a throw of 136 feet.
"Our throws team is very strong and led by our throws coach, Will Summers, who gives these guys college coaching experience," Acra said.