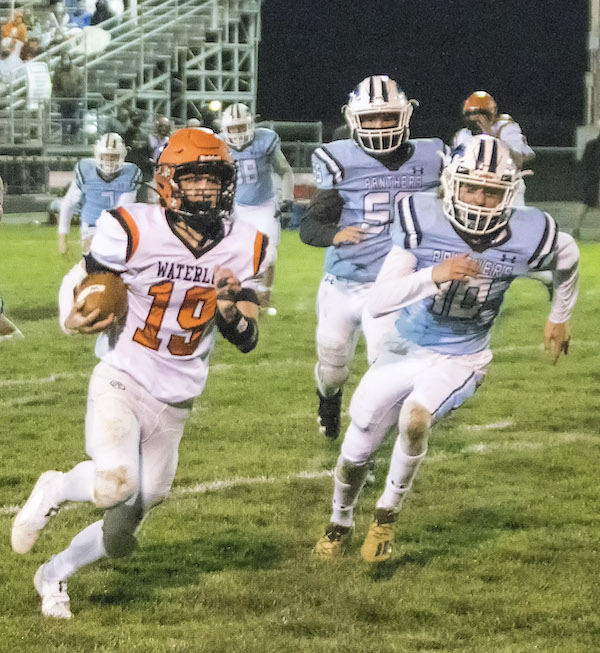 With chilly temperatures that made it feel like fall, the Waterloo, Columbia and Dupo high school football teams all posted wins Friday as the spring season reached its midway point.
Waterloo closed out pool play in the Mississippi Valley Bowl Series with a perfect 3-0 record courtesy of a 28-21 victory at Jerseyville.
The contest was tied at 21-21 with less than eight minutes remaining, but Waterloo quarterback Eric Brown's 24-yard touchdown run at 4:15 of the fourth quarter put the Bulldogs up for good.
"It's never easy to win in Jerseyville," Waterloo head coach Dan Rose said.
Brown rushed for 109 yards and was 7-for-10 passing for 70 yards and a TD.
Evan Davis rushed for 221 yards and had two second quarter TD runs for the 'Dogs, who host Collinsville (0-3) this Friday as the series shifts to bracket play to determine a conference champion.
Waterloo is the top seed in Pool B, with Triad (3-0) the top seed in Pool A.
Waterloo's defense had three fumble recoveries in Friday's win. Two of those were by Drew Goff, who also recorded a sack. Jack McFarlane had an interception.
Rose pointed to his defense creating those four turnovers as key to the victory.
"Winning the turnover battle was big," he said.
With little margin for error on this night, placekicker Gavin Hearren's 4-for-4 night on point after kicks was also crucial, Rose said.
After Jerseyville tied the game in the fourth quarter, Waterloo responded by scoring just six plays later.
Jerseyville was driving in its final chance to tie the game late and got to about midfield when Waterloo's defense came up with a fumble recovery.
The Bulldogs picked up a first down on offense to seal the win.
Rose said Collinsville's 0-3 record may be misleading, as those losses came to Highland, Triad and Mascoutah.
"They are very big and have good speed," Rose said.
Eagles soar
Columbia (2-1) won 37-18 at Salem on Friday, and Dominic Voegele was the star of the show on this night.
Voegele threw two touchdowns and ran for three more. He was 14-for-19 passing for 170 yards and two second quarter TD throws. He ran for 120 yards and three second half rushing scores – including a 26-yard TD at the start of the fourth quarter.
"Voegele took advantage of his first varsity start and had a huge night," Columbia head coach Scott Horner said of the 6-foot-2 sophomore signal caller.
Voegele also recorded an interception on defense for the Eagles, who host rival Freeburg this Friday night.
Tom Koenigstein added an interception and the defense also registered two fumble recoveries. "Defensively, we played pretty solid the entire night and were led by Oliver Schrader and Voegele, who each had six tackles," Horner said.
Kyle McConachie added 96 rushing yards for Columbia.
Horner said Freeburg will be a tough test.
"Freeburg will be aggressive and they are skilled as well," Horner assessed. "We will need to continue to play better rushing the ball and keep their offense off the field."
Tigers roar
Dupo celebrated its home opener with a 30-18 victory over longtime rival Wesclin on Friday.
"It was a huge win for us," Dupo head coach Joe Day said. "Wesclin is always extremely well coached and their kids play super hard."
Logan Stevens got the scoring going early for the Tigers, busting off a long rushing TD on the opening drive. Camden Biggs ran in the two-point conversion to make it 8-0.
Another rushing score for the Tigers put them up 14-0 at 6:14 of the second quarter.
Dupo kept the points coming from there to improve to 2-1 on the season.
Biggs rushed 30 times for 213 yards with two touchdowns. Stevens added 139 yards on the ground on 19 carries and also had two TDs.
Dupo quarterback CJ Robinson was 5-for-7 passing for 55 yards. Four of those completions were to Jacob Taylor, who had 48 yards receiving.
Dupo's defense recorded three sacks. Hunter Stephens had 10 tackles and three assists. Noah Chism had a safety.
"We just believed that we had the ability to run the football and play tough defense and our defensive coordinator Tanner Day did an incredible job with the game plan last week," the head coach assessed. "We were able to hold them under 130 yards of total offense."
Up next for the Tigers is a date with Red Bud at home this Friday. The Musketeers are also 2-1.
"We know we have another massive game this week as we prepare for a very physical, tough Red Bud team," the head coach said.
Frank Ford leads Red Bud in rushing with 291 yards. Parker Van Dorn is the team's top receiver with 222 yards.