Local duo tells 'Gus's Tails'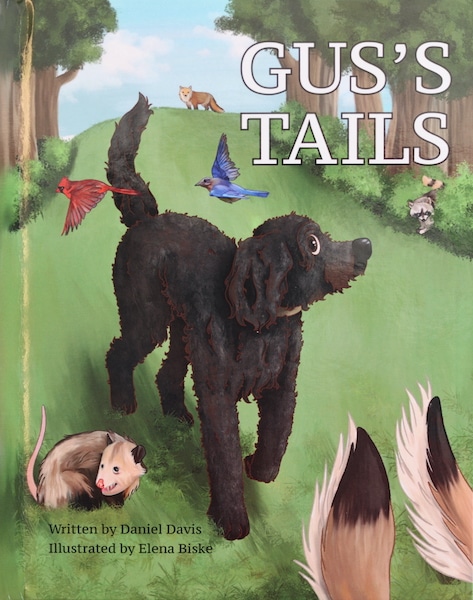 A local dog owner recently released a book documenting some of the many adventures he and his beloved Golden Doodle had walking through their wooded neighborhood.
"Gus's Tails," also illustrated by a local artist, will see a portion of its sales donated toward Helping Strays.
Daniel Davis has called Monroe County home since June 1992. As he recalled, he and his wife have always had dogs that they'd adopted from shelters.
In the late 2000s, some time after their previous dog had passed away, they began a search for a new pooch, having taken an interest in the Golden Retriever and French Poodle crossbreed.
Their hunt for such a dog led them to Open-Door Animal Sanctuary, a no-kill shelter in House Springs, Mo.
As Davis said, the 1-year-old – and already quite large – puppy they were there to see immediately approached them when the door to his pen was opened, standing on his hind legs to hug Davis' wife and lick her face.
After gaining approval from the sanctuary, Angus "Gus" McDoodles came home with the family.
It was several years later that the seeds for "Gus's Tails" were sewn. While Davis and Gus went on frequent walks in the area around their home near the bluffs from the time Gus was first adopted, it was when he turned 6 and was able to walk off-leash that things got a bit more interesting.
"We'd walk, and because of the woods we'd see a lot of wildlife and stuff, have interactions with that and other neighborhood dogs," Davis said. "So I would just write about our walks occasionally on my wife's Facebook page, but her friends kept saying 'Oh, you ought to do a book.'"
Following his retirement as a real estate appraiser four years ago, Davis set out to do just that.
With plenty of memorable interactions between Gus and neighborhood squirrels, deer and other pups, Davis was keen to have pictures alongside his stories.
He described how he wasn't too interested in the many websites and resumes of artists he came across online, instead wishing to find someone closer to home.
Luckily for Davis, Elena Biske, a graduate of Gibault Catholic High School who was attending Washington University for design and illustration, was living just a few doors down.
Biske said her participation in the book first started by happenstance.
"We were both out walking our own dogs," Biske said. "It was the summer of 2020, so we had nothing better to do. He was chatting with my dad as we crossed paths and asked what I was doing in school."
After Davis saw a few examples of Biske's work and felt satisfied she would capture the charm of Gus's adventures, she was set to work.
Of course, creating illustrations for a book is a tall task for a full-time student, so Biske found herself working on the project primarily during breaks throughout each school year – finally getting things wrapped up after graduation.
This was among Biske's first professional artistic endeavors. She compared it to her senior capstone project.
"Honestly, I probably put more time into this book than I did into that," Biske said.
The fruits of this labor are a book containing about 30 of Davis' walking stories, each page featuring an illustration of Gus and the many other animals he interacted with from 2012 to 2014.
Though Davis couldn't narrow down a single favorite story, he did speak especially fondly of Gus's squirrel altercations, particularly one in which he came nose to nose with one friendly rodent.
The book also features several stories of Gus sniffing out deer and gazing at birds. Davis stressed that no animals were harmed in any of these interactions.
Both Davis and Biske spoke about the importance of capturing the right spirit and tone for each illustration.
Davis commended Biske for consistently understanding the feel of each story, providing him with sketches that nailed it the first time more often than not.
Biske similarly spoke about how important it was for her to properly depict each scene given how they happened in her backyard as well.
"I really wanted to get the detail right, especially since it's my home, too, that Gus is walking through," Biske said. "And I think having that special connection to the woods in that area and having my own stories with all of these animals that have come through really worked out in terms of capturing the specific life of the woods in which we live."
Regarding the donations to Helping Strays, Davis explained he wasn't exactly looking to make much money out of the project, but he still hopes to have a positive impact on a local shelter just as shelters have been so beneficial to his life.
"It's a hobby," Davis said. "I was just hoping not to lose a lot of money. But at the same time, you want to give back."
As a dog lover herself, Biske expressed enthusiasm for the donations, as did Helping Strays Executive Director Scott Spinner, who spoke about how the organization was happy to help bring some attention to a local book.
"I just thought it was really neat that Dan thought of us," Spinner said. "It's a neat story, and certainly with the work we do being in rescue, it's something that we're both passionate about."
With plenty of other stories to recount, Davis said he and Biske have discussed the possibility of putting a second book together in the future, though it's not yet certain if those talks will lead to a sequel.
"We're kinda thinking about doing a second one because there's a lot more good stories," Davis said. "He was kinda like the dog ambassador to the neighborhood. At least, that's what his biased owner's saying."
For more information on "Gus's Tails" or to order a copy, visit gusstails.com.