A recent lawsuit alleging sexual misconduct from a Ss. Peter & Paul Parish priest was dismissed in St. Clair County Court, an attorney has confirmed with the Republic-Times.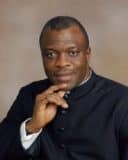 "The (Belleville) Diocese's Dec. 9, 2016 motion to dismiss is called, heard and granted with the plaintiff granted 30 days to (file an amended complaint)," a court order filed Wednesday at St. Clair County Court states.
Laura Merleau-McGrady's attorney, Jessica Arbour, who plans to file an amended complaint, said the judge raised issues about the substance of the allegations.
"By no means is this a victory for the Diocese," she said. "It's not a surprise at all. Whether it's in Illinois or another state, you see this with a motion to dismiss all the time."
McGrady filed the lawsuit in October against the Diocese of Belleville, alleging she faced 18 months of sexual abuse from Father Osang Idagbo, who serves as pastor of Ss. Peter & Paul Catholic Church in Waterloo.
The Diocese responded with its motion to dismiss in December. The motion was to dismiss McGrady's lawsuit "in its entirety" because the relationship between McGrady and Idagbo was "between two consenting adults."
Arbour was then given a chance to respond to that December motion to dismiss. Her response reads:
"While it is true that (McGrady) was an adult at the time she alleges she was sexually exploited by Father Osang Idagbo between December 2013 and July 2015, it does not change that this is a relatively simple (and familiar) legal claim: (the Diocese) created a risk of harm by installing a parish priest that it knew or should have known was a danger to parishioners like (McGrady), that it failed to supervise him properly despite what it knew or should have known, that (McGrady) was harmed as a result of Defendant's acts and omissions, and that her harm was reasonably foreseeable to Defendant."
The Diocese then filed a reply in further support of its motion to dismiss, which states, "Illinois simply does not recognize a claim for alleged 'sexual exploitation' by one competent adult against another.
"And Illinois law certainly does not make the alleged 'exploiter's' employer — here, the Diocese of Belleville — legally responsible for its employee's supposedly wrongful 'manipulation' of a competent adult into an alleged sexual relationship. The fact that the alleged 'exploiter' in this case happens to be a Catholic priest does not change this result."
An attorney representing the Diocese told the Republic-Times on Thursday the judge agreed with the Diocese's argument that there was no cause of action, though the attorney felt the judge should not have granted McGrady the chance to file an amended complaint.
The original filing claims that "Idagbo learned sensitive, private information about" McGrady through counseling sessions "that he later used to exploit and manipulate her into a sexual relationship" and that the Diocese "knew or should have known" Idagbo was sexually exploiting McGrady.
McGrady currently resides in China and is teaching English to Chinese students for a two-year period that began in 2015.