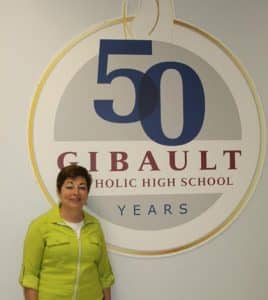 Sev Kovarik spent 13 years at Gibault Catholic High School attending every event possible, coordinating with local newspapers, tracking down donors and enhancing the school's facilities.
The bottom line: she cares. Which, according to the 57-year-old Waterloo woman, is why someone new needs to step into the role of director of development.
"I don't want to be one of those people who comes back and says, 'Well, that's not how we've been doing it,'" she expressed. "I want to step back and let someone bring in new, fresh ideas.
"Just because we've done something a certain way doesn't mean it can't change. That's one of the reasons I'm retiring. The position needs rejuvenation."
Gibault principal Russ Hart said Kovarik's impact on the school will be clear long after she retires.
"Sev's impact on our school over the last 13 years is immeasurable," Hart said. "She moved our fledgling development department to a whole new level, significantly increasing annual fund giving, expanding the success of the Oktoberfest and helping to launch the very popular Taste of the Region event."
In a final letter addressed to the school, Kovarik told students, staff and administrators that she treasured getting to know everyone through the years, as well as attending different school events.
"I don't think I've missed a single event," she said.
At first, she remembers attending events for her sons Marty, 26, and Jeremy, 24. But her involvement grew into much more once the two had graduated.
"It's great to see the kids at their best," Kovarik said of why she continues attending activities. "They work so hard, and it's fun to see them get there."
And while the students work hard for their education, Kovarik recognized that the parents, teachers, staff and donors show the same level of dedication to helping these students reach their full potential.
"I've learned how hard it is to run a Catholic school and that we have to appreciate the dedication of parents to send their children here, and the commitment of teachers, donors and volunteers who care so much about Gibault," she said.
In her time at Gibault, Kovarik has put together many donor opportunities, including the most recent capital campaign to raise money to build a $1.6 million soccer field at the school. Contact the school at 939-3883 to make a donation.
"That's been my only disappointment," she lamented. "But I'll keep going with it. I'm working until my very last day and if it happens, it happens."
She has had more than a few major successes, however, including her most significant undertaking — Gibault's 50th anniversary celebration. The school recently hosted an open house in honor of its 50th birthday for alumni from over the years to reconnect with the school.
"It's a good way to get people back and thinking how they can help," she said.
In her time at Gibault, she never did get to know the school's legendary founder, Fr. Ed Hustedde, as he passed away the day before she started. But she did get to know his legacy.
"I'd like to think his memory has inspired much generosity throughout my years here," Kovarik reflected in her retirement letter.
Kovarik will retire June 30 with Andrea Biske set to take her place. In retirement, Kovarik plans to be involved in the Gibault Women's Club and spend more time with her family — her parents are moving back to St. Louis.
She is also training to be a part-time branch office assistant at Edward Jones as her husband Vern continues to work.
Kovarik began as a secretary at the school. During commencement exercises at Gibault this coming Monday evening, she will be made an honorary graduate.
"Now I can say we're all Gibault graduates," she said referring to her family.