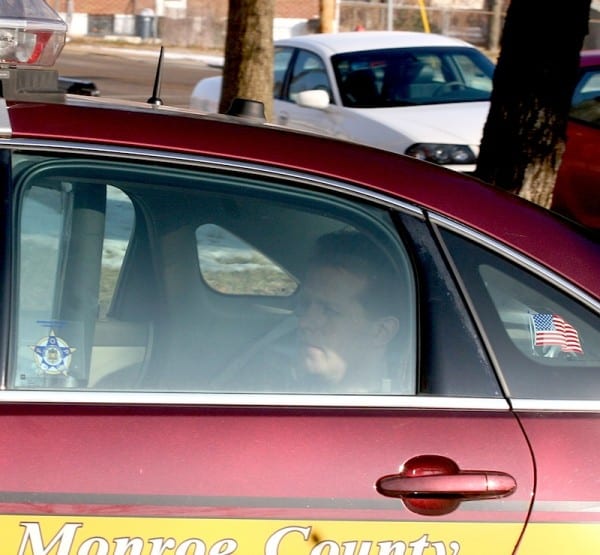 Judge Milton Wharton on Monday denied a defense motion to retry Chris Coleman in what may have been the convicted murderer's final court appearance at the Monroe County Courthouse in Waterloo.
The ruling sets up an appeal, which would be handled by a higher court in Mt. Vernon.
Escorted into the courtroom by two Illinois Department of Corrections jailers, a shackled Coleman appeared Monday afternoon sporting a shaved head and goatee and wearing a prison issue white short-sleeve collared shirt and dark pants.
Coleman looked over and smiled at family members attending the hearing as he sat down next to his attorneys.
His legal defense team of Bill Margulis and John O'Gara argued their motion for retrial based on 15 instances they say the "court committed error which requires a new trial."
Among the reasons include:
*Allowing "hearsay" statements allegedly made by Sheri Coleman via text, email and phone conversations with acquaintances about the defendant wanting a divorce.
*Denying a mistrial after Sheri's friend Meegan Turnbeaugh said on the stand that Sheri once told her "Chris beat me," which was quickly stricken from the record by the judge but still heard by jurors.
*Allowing "hearsay" testimony of computer and text messages without proper foundation.
The prosecutor in this case, Monroe County State's Attorney Kris Reitz, argued Monday that this court "went to extreme lengths" to review all issues raised at trial and ensure a fair trial.
"We ask that this motion be denied," Reitz said.
Judge Wharton did just that, siding with Reitz that the court had "extensively reviewed" all matters at trial and cited proper case law when making all decisions.
O'Gara then stated his client's intent to file an appeal with the Fifth District Appellate Court in Mt. Vernon.
Coleman, who was convicted May 5 and sentenced to three concurrent life sentences for the 2009 murders of his wife and two sons in their Columbia home, is currently being housed at the Pontiac Correctional Center.
The IDOC said earlier this month it may transfer Coleman to an out-of-state prison for safety and security reasons, but no decision on such a move has been made.
In a separate matter on Monday, Judge Wharton said he was inclined to allow public access to some of 99 exhibits entered at trial, but will make a decision later this week.
A motion for access to the exhibits had been filed by an attorney for the St. Louis Post-Dispatch and Belleville News-Democrat.
The judge said he will not allow access to sexually explicit videos played in court of Coleman and his mistress, Tara Lintz, and may limit which crime scene photos can be released due to its graphic nature.
Both the prosecution and defense stated their reluctancy to have these exhibits made public due to the potential that future jurors could see this evidence through media sources should Coleman win his appeal, hurting chances for a fair retrial.
The judge also expressed concern that the release of this material has the potential to re-ignite a "caravan of curiosity seekers."