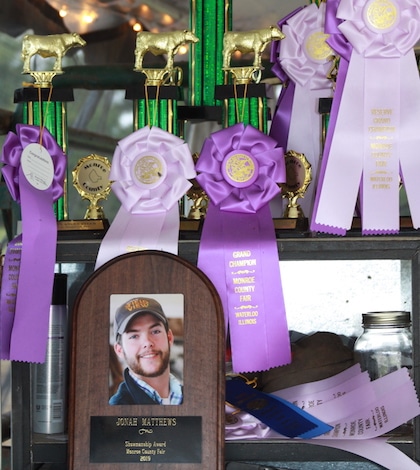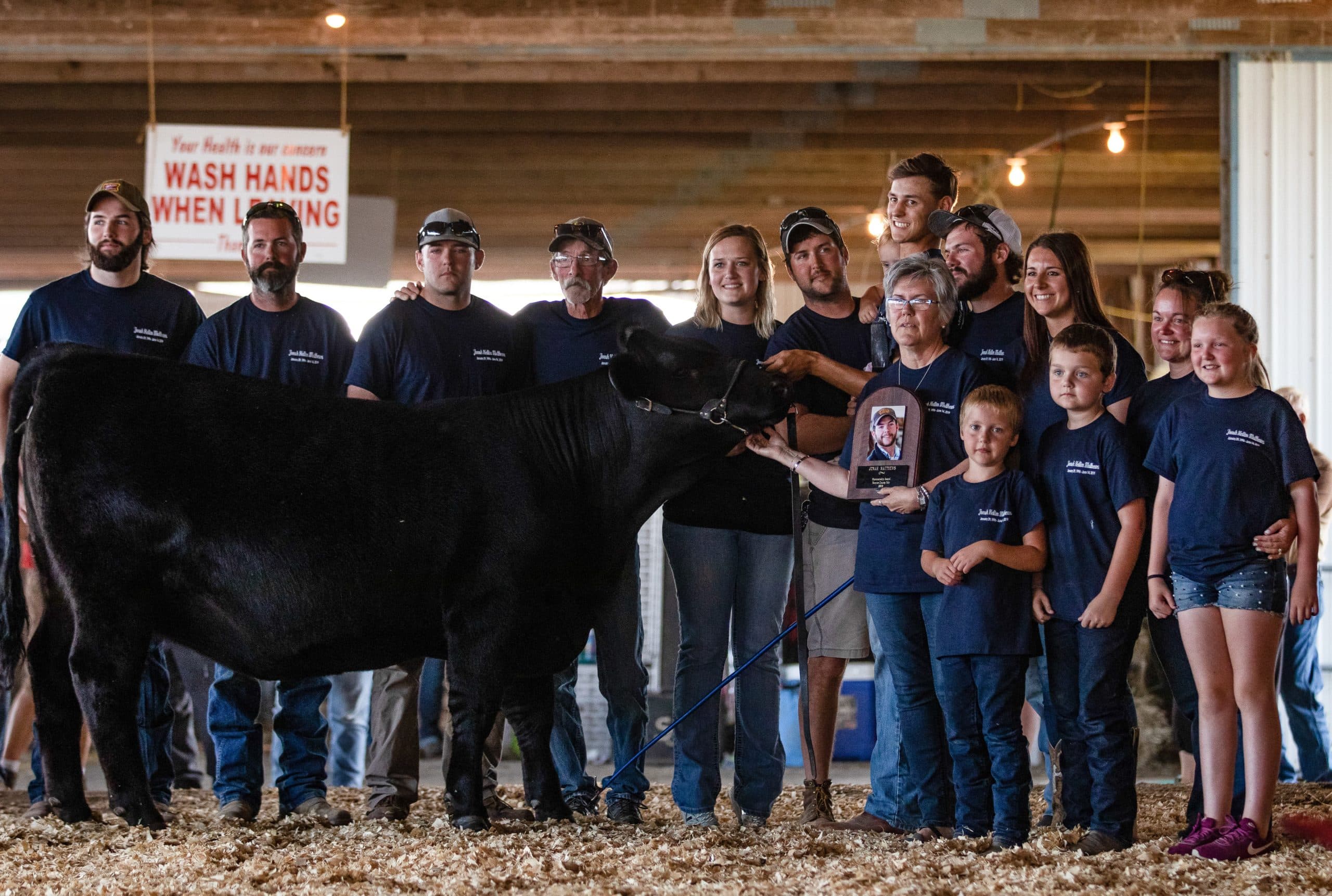 The community and family of Jonah Matthews helped ensure the young Waterloo man's legacy will live on by contributing to a fundraiser and presenting an award in his honor at last week's Monroe County Fair.
Matthews, a 23-year-old farmer, died June 14 after his tractor collided with a train in the area of Fults Road at Bluff Road.
To honor him, the livestock community and Waterloo FFA decided to raise money by selling T-shirts, which featured Jonah's name, years of life and a picture of a farm with a quote from Jonah above it: "God sure does paint a pretty picture."
"Jonah was a person that everyone loved," Cindie Allscheid, one of the fundraiser's organizers, said Thursday night at the fair. "He had a passion for farming and cattle. As part of his farm family, we wanted to sell shirts in his honor. There is nothing anyone can say to Mr. and Mrs. Matthews and their family, but this is the least that we could do."
The $15 T-shirts sold better than the organizers expected, netting $8,000.
"When this all started, I thought we would maybe sell a hundred shirts," Allscheid said. "When we put the form out, there was probably a hundred sold in the first hour. It blew my mind how much the community is coming together and just really supporting everyone. It just goes to show how many lives Jonah touched in his short 23 years."
The money will go toward a scholarship in honor of Matthews.
Debbie Matthews, Jonah's mother, spoke after her family was presented with the check Thursday night prior to the livestock auction.
"Our family is absolutely overwhelmed with gratitude for this donation," she told the crowd. "Thank you so much."
She said the money would be used wisely, choking back tears as she spoke.
"This is going to help establish the Jonah Matthews Memorial Fund, which will hopefully prove to be a vehicle to not only help others live out dreams that were similar to his, but to allow Jonah to leave a legacy that will continue to leave a positive impact, the kind of impact he was busy making while he was with us," Debbie said.
Debbie also encouraged onlookers to learn from Jonah.
She recounted how he would often make his siblings laugh when moving furniture their parents had restored by quoting the famous scene from the TV show "Friends," telling his siblings to pivot.
"So, perhaps now, in this moment, is the time he would drop that line again, but this time to actually encourage us to pivot," she said. "Not that we can put away the void we feel without him being with us, but we can pivot toward living our lives with more intention and awareness.
"So pivot toward the things eternal, seeking to put our faith in the right place and the right one. Pivot toward what would help us become better versions of ourselves. Pivot toward what matters."
The Monroe County Farm Bureau Young Leaders Committee is also accepting donations in memory of Jonah.
The donations will be put into one fund to help FFA members purchase their appropriate dress or help Monroe County high school seniors attend college to obtain a degree in agriculture.
The Matthews family also honored Jonah's memory last Wednesday night at the fair following the steer show.
Following that event, the family presented the inaugural Jonah Matthews Showmanship Award plaque and $400 prize to Adam Doyle.
Debbie said Jonah placed particular importance on that award, saying it "cuts the wheat from the chaff."
The family chose $400 as the prize because Jonah was the fourth of their sons.
Doyle, a family friend, also showed Jonah's cow/calf pair at the fair, winning grand champion and reserve grand champion prizes.
By doing that, the family is doing something Jonah would have wanted them to do, according to Debbie.
"These last few weeks have been filled with both heartache and love," she explained. "We're going to do our best to do what Jonah did: focus on the love. We invite you all to join us. We love you, Jonah, and we know heaven is a little sweeter with you there."