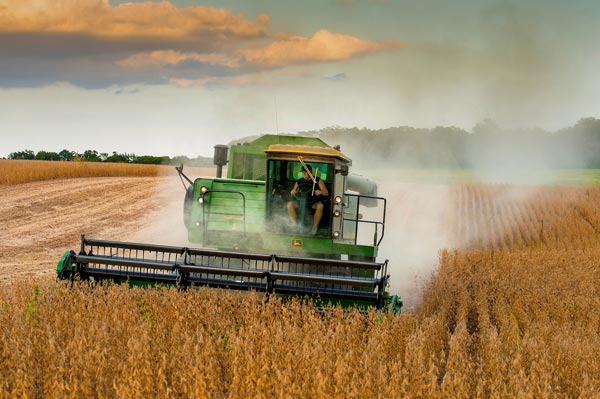 ---
Farming has been described as gambling without going to a casino, and this year has certainly raised the stakes for many area farmers. 
The results for any given year are important to far more people than just those who work the fields. Agriculture is the economic underpinning for many businesses and its citizenry. 
The Republic-Times reached out to Michael Biethman at Gateway FS for a county-wide overview of the harvest that is now charging ahead earnestly in Monroe County.
Biethman noted harvesting progresses from west to east across the county — from the bottoms to the bluffs and inland. He added that crop yields this year are quite variable, depending heavily on water. Even in the face of flooding in the bottoms, ups and downs in temperatures, and too much to too little rain, he said he is hearing reports of somewhat above average crop yields. 
But much depends on what farmers planted as well as when and where.
Starting with an excellent spring wheat harvest and continuing with the corn harvest, regardless of yields per acre, prices have not been very attractive to many farmers. As a result, much of the harvest of those two grains is being held in storage. 
Soybeans — the third major grain crop across Monroe County — are bringing prices above $9 a bushel, and some farmers are selling that crop to generate cash flow, Biethman indicated.
Soybeans are routinely planted twice. Those planted in the spring are now brown with their leaves gone and their bean pods hanging down. A second planting can follow the spring harvest of winter wheat, and those beans currently vary from completely green to just starting to turn yellow now. They will have to complete the green-to-yellow-to-brown cycle before they can be harvested later this fall.
Monroe County Commissioner Delbert Wittenauer farms both in the bottoms and the uplands.
Earlier this year, he noted warm soil temperatures allowed him to plant corn earlier than ever, and the plants emerged earlier as well. But flooding in the bottoms required a second planting to replace drowned plants. 
The first planting corn is largely harvested, but farmers are waiting to see if the second replanting will provide much return. Emphasizing the variable results, Wittenauer said he saw corn yields reach above 300 bushels per acre and then only a short distance away, drop almost to nothing.
Soybeans, which Wittenauer noted ripen when daylight hours start to shorten and there is more darkness, are being harvested now. He assessed first crop bean results as good, with results of second planting still to be seen.
Bruce Brinkman, who farms in the Valmeyer and Harrisonville areas, echoed the variability theme. 
"There's no consistency at all this year," he said while adding, "I am having to dry my corn before I can take it to market." 
He reported his bean yields have been positive, ranging from 55 to 75 bushels per acre.
Brinkman added information about a seldom discussed crop he grows — horseradish. 
"If we can get good rain over several days — not a downpour that runs off — this crop may be OK," he said. "But right now, the ground is too hard to even dig the results out." 
He noted that this requires a modified machine that can dig more than a foot into the soil.
Another variable is also impacting prices and delivery of crops to market, Brinkman noted. The Mississippi River, which flooded over the winter and into the spring, is now so low barges cannot be fully loaded for shipment to New Orleans for overseas export. 
Barges normally loaded down to an 11-foot draft are now being light-loaded to nine-foot drafts. Someone pays for that lost capacity — and in the end, it reaches down to the farmer in terms of the price he gets. 
At the same time, seed, fertilizer, chemicals and crop insurance costs are not any lower.
Dennis Rodenberg, who farms in the bottoms near Fults, as well on the high land, said the first bean plantings are resulting in good yields. But he is less optimistic about later plantings. 
He assessed his corn yields as "average," noting that he, like most farmers, is "happy with what I get." 
He added, "I sure wish we had gotten adequate rain in early September, though."