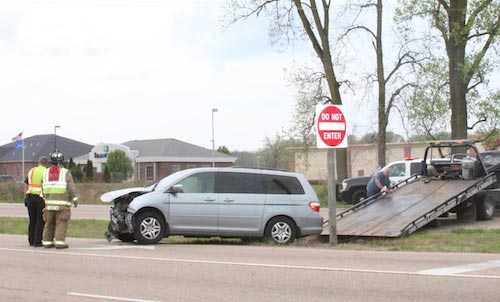 Columbia police, fire and EMS responded about 11:50 a.m. Friday to a two-vehicle crash on southbound Route 3 at Valmeyer Road near Columbia Middle School with injuries, road blockage and possible extrication required.
The vehicles involved were a 2007 Honda Odyssey minivan driven by Stephanie Hawn, 39, of Columbia, and a black Pontiac G6 driven by Kyle Schreckenberg, 16, of Columbia. Schreckenberg was transported by Monroe County EMS to St. Anthony's Medical Center in St. Louis County. A 16-year-old male passenger in Schreckenberg's car was also transported to St. Anthony's by Columbia EMS.
Police said the minivan was traveling north on Route 3 and attempted to turn left onto Valmeyer Road when it collided with the car, which was traveling south on Route 3. Hawn was cited for failure to yield-turning left.