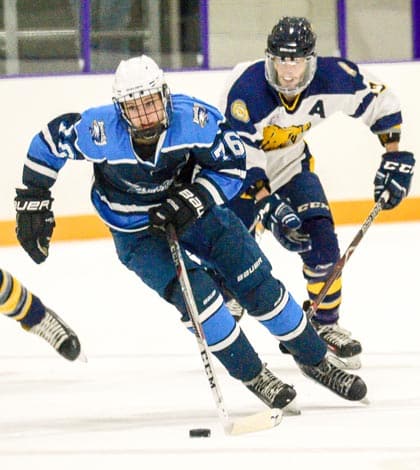 The Columbia Ice Eagles and Freeburg-Waterloo Raging Bulldogs stand atop the Mississippi Valley Club Hockey Association standings this season as both remain unbeaten.
The two rivals will clash for the first time this season Dec. 21 at the Granite City Ice Rink. The puck drops at 7:30 p.m.
The Raging Bulldogs defeated Belleville last Tuesday night, 4-1. Nick Mumford recorded a goal and an assist in the win. 
"We won that game all because of a stellar performance in net by Trevor Smith," Raging Bulldogs head coach Scotty Roberts said. "He stood on his head."
On Thursday, the Raging Bulldogs won 5-0 over Alton to run their record to 8-0-1. Mumford scored two more goals with an assist. Smith recorded another shutout in net.
The leading scorers so far for Freeburg-Waterloo are senior Jacob Pitt and sophomores Nate Metz and Braden Fiscus, along with Mumford.
The Raging Bulldogs return to action 7:30 p.m. Tuesday against Edwardsville at the McKendree Rec Plex in O'Fallon.
The Ice Eagles are also 8-0-1 following wins last Wednesday over Alton and both Monday and Tuesday night against Triad. Columbia blasted Triad by a 10-0 score on Monday, with Hudson Miller netting four goals and Ryan Hofstetter recording a hat trick. On Tuesday, the Ice Eagles won 12-0, with Sean Hofstetter netting a hat trick and the team getting two goals each from Miller, Trey Walton and Cam Nowak.
Ryan and Sean Hofstetter join Miller as scoring leaders this season for head coach Kevin Feager's squad.
The Ice Eagles will do battle with Collinsville at 7:30 p.m. Monday in O'Fallon.