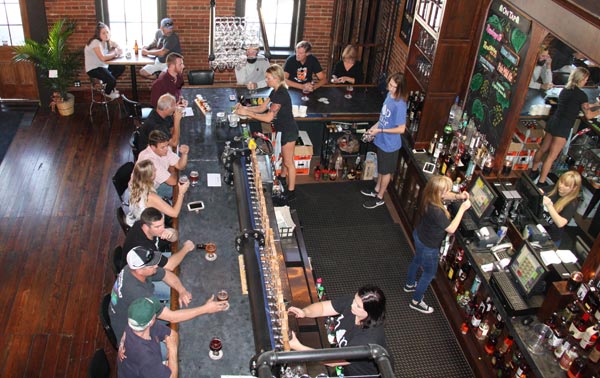 ---
One year, thousands of man hours and dozens of Facebook updates later, Hopskeller Brewing Co. officially reopened Friday to the delight of craft beer enthusiasts far and wide.
"This (has) been one heck of a journey. Thank you for staying in touch, for your support, and for what I hope will be many continued good times," Hopskeller shared on its Facebook page before the opening.
Moments before the grand reopening celebration at 116 E. Third Street in Waterloo, dozens of people stood in line outside the entrance, frothing at the mouth. When the doors finally opened, the glowing smiles of bartenders and pizza makers could be felt across the room.
The well-lit ceiling beckoned visitors to further explore the space in a 19th century building that has retained its rustic feel. Highlighting several of the steps leading to the upper level of the brewery are newly installed, lighted signs that read "Hopskeller."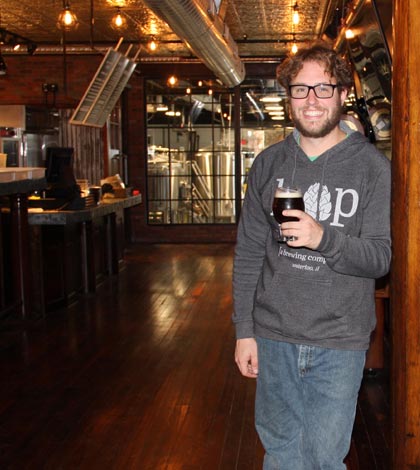 A food order pickup counter where two classic arcade games once stood now separates the kitchen crew and pizza oven from customers. However, the piece de resistance is the completed outdoor patio.
The water feature is a rock waterfall flowing into a miniature pond that many enjoyed this past weekend while sipping alcohol, eating pizza and brats and standing close to the fire pit when the sun went down and fall temperatures kicked in.
"The crowds were absolutely awesome. Everyone was great and the kitchen crew and bartenders and everyone did an amazing job," Hopskeller founder and brewmaster Matt Schweizer said. "We had no trouble from anyone."
Hopskeller part-owner George Obernagel said PumpkinFest helped draw many people in.
"I think it was a great weekend. The weather was perfect for it," Obernagel said. "You couldn't want to open on a better weekend because of PumpkinFest.
"I think people are excited to be back. I think people are excited about the new features, the kitchen and (everything). And I really think one of the things people are enjoying the most is the patio. You have more outdoor seating than you do indoor seating."
Stubborn German Brewing Co., Hopskeller's neighbor from across the courthouse square, recently plugged Hopskeller on Facebook, continuing a tradition of Monroe County businesses supporting each other.
"Our friends at Hopskeller Brewing Company are opening this Friday after being closed almost a year due to a fire," the post from Stubborn German reads. "We're excited to have them back on the block!"
Hopskeller reciprocated, mentioning Stubborn German as one of two options for brewery lovers to visit during PumpkinFest. Schweizer had vowed to restore his popular establishment shortly after a fire last fall left large-scale ruins in its wake.
The new and improved Hopskeller promises greater efficiency in getting out food orders with an upgraded pizza oven, and has the ability to produce more beer at a time with bigger brewing equipment.
"(The new pizza oven) is great. The staff really knows what they're doing — the pizzas are coming out so crisp and the wait times are significantly reduced," Schweizer said.
The brewery will be open from 2 to 11 p.m. Monday through Thursday, noon to midnight Friday and Saturday, and noon to 9 p.m. Sunday. More information is available at hopskeller.com or Facebook.com/hopskeller. Contact Hopskeller at 939-2337.
"We're so far beyond my expectations that we're not even in the realm of expectations," Schweizer said of how he feels after the brewery's reopening. "It's just an absolutely gorgeous place. Everything is running so smoothly.
"What I envisioned was nothing like this at all. And I don't just say this — it truly is a wonderful place."