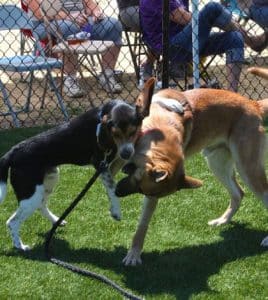 Last Tuesday marked the final day of open hours at the old Helping Strays animal shelter in Red Bud.
"We were able to find thousands of pets their forever homes out of this gem," Helping Strays posted in a message on Facebook.
After that, the organization's employees, volunteers and animals began moving into its new home at 4221 Hanover Road near Columbia. Helping Strays President Paula Hutchinson told the Republic-Times that the move was officially completed.
"(The dogs) are loving the play yard," she said. "Everything is going really well."
However, Hutchinson added that open hours would not begin until Wednesday. HelpingStrays.org states that those hours will appear on the Helping Strays of Monroe County Facebook page as they become available.
Even before the opening of the new facility, Helping Strays received more than $600,000 in donations from people in the community for the new shelter. Helping Strays also added marble puppy pens with materials and labor donated from McCarty's Contemporary Marble in Columbia.
On June 17, Helping Strays volunteers, employees and dogs tested out the new facility, bringing the dogs outside to the fenced-in play area along the east side of the building.
Dogs Playing for Life instructors also came to the shelter that day. While the shelter's dogs ran around the yard, DPFL lead instructor Kodi Sadler and assistant instructor Willan Sadler demonstrated techniques for training dogs to play together without becoming aggressive, agitated or fearful.
Such techniques focused more on the tone of voice and consistency in which the trainers assert their position as alphas rather than what actions they perform.
"People will say to us, 'You come and teach these things and then you move on to somewhere else. How can you be sure that what you're doing is really safe?,'" Kodi said.
But DPFL founder Aimee Sadler defends the organization's practices at DogsPlayingforLife.com, stating that shelters that implement play groups see less dogs fighting, a decrease in disease outbreaks and other benefits.
Hutchinson said the next major Helping Strays event will likely be a grand opening and ribbon-cutting in September.
In March 2015, Helping Strays officially broke ground for the new building. The adoption shelter had anticipated moving in by late May or early June 2016 at the time.
"I'm so humbled by how many people came out today," Hutchinson said during the groundbreaking. "This celebrates a new milestone in the journey of Helping Strays. We've been working toward this goal for many years."
The new facility has the capacity to house 29 adoption-ready adult dogs, separate rooms for young and small dogs, a spacious area for cats and kittens, quarantine areas for dogs and cats, isolation rooms and meet and greet rooms, along with an education room and retail space.
The new building will afford the 12-year-old organization, formerly known as the Humane Society of Monroe County, the ability to do things it's never done before, such as quarantine new animals and isolate sick animals from the rest of the shelter.
"There's going to be so many nice things at the new facility," Hutchinson said.
(Andrea Saathoff contributed to this report)