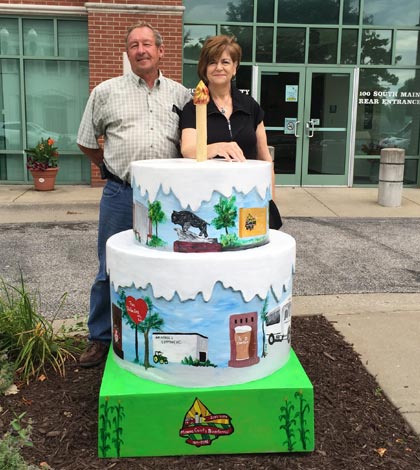 Monroe County was chosen to help celebrate the 250th anniversary of St. Louis in 2014 with two colorful ceremonial cakes that were displayed prominently in Columbia and Waterloo.
Those same fiberglass cakes are now being re-purposed to mark Monroe County's 200th birthday in 2016.
"They won't look the same at all," Monroe County Commissioner Delbert Wittenauer said.
Wittenauer and the late Nora Feuquay, who served as the county's community and economic development educator, were instrumental in leading a campaign to bring two "stl250" cakes to Monroe County.
Local artists painted the cakes in keeping with the stl250 theme, and they sat outside the Monroe County Courthouse in Waterloo and Monroe County Welcome Center in Columbia.
With the stl250 celebration now a thing of the past, these cakes were being kept in storage until Wittenauer came up with the idea to use them again for Monroe County's big milestone in 2016.
Wittenauer joined Ken Valentine of Valentine Auto Body in stripping paint, sanding down and re-treating these cakes in preparation for two new artists to showcase their talents in honor of the Bicentennial.
Local artist Mary Biby designed one of the Bicentennial cakes, focusing on current-day Monroe County and its businesses. Her finished cake was unveiled Monday outside the courthouse along South Market Street.
"For hers, we were trying to capture 2016 Monroe County and what's here," Wittenauer said.
Biby painted images of new businesses on the cake, including the Stubborn German and Hopskeller breweries, Stumpy's Spirits of rural Columbia, and the future 11 South professional complex being built in Columbia.
She also included some of the landmark businesses that have contributed greatly toward the Bicentennial, including Harrisonville Telephone Company, Wm. Nobbe John Deere and Valentine Auto Body.
"It was a challenge," Biby said of the cake project. "This is not my typical style."
Biby said she mostly does colorful landscape paintings that are more abstract.
"I had to compose it all on my computer and put it together first," Biby said, adding that she then used carbon paper to place the images on the cake before painting.
"There's only so much room on the cakes," Wittenauer added.
The other Bicentennial cake will be designed by artist Teresa O'Bryan of Art2Go in Columbia. Her finished cake, which will focus on Monroe County's rich history, will be placed outside the Welcome Center located off Route 3 at Gall Road in Columbia.
"Her cake should be finished very soon," Wittenauer said. "I'm looking forward to seeing what she came up with."
Wittenauer said the plan is to auction off these cakes as commemorative keepsakes during the special Bicentennial Gala at Turner Hall on Nov. 5.