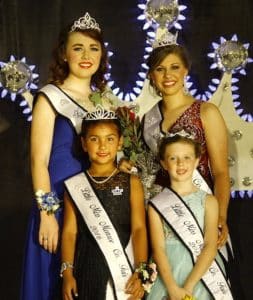 The 70th annual Monroe County Fair kicked off in grand fashion Sunday night with the crowning of a new fair queen and little miss in the main arena of the fairgrounds in Waterloo. Slightly cooler temperatures at the tail end of a week-long heat wave resulted in a pleasant summer evening.
Alexis Hartman was crowned fair queen and Savanna Cissell was chosen as this year's little miss. First runner-up in the queen pageant was Noella Hosick, who also won Miss Congeniality. Second runner-up went to Whitney Buatte.
Read more on this year's pageant in the July 26 issue of the award-winning Republic-Times newspaper.
For more on the Monroe County Fair, click here.
For photos from Sunday's pageant, click here.