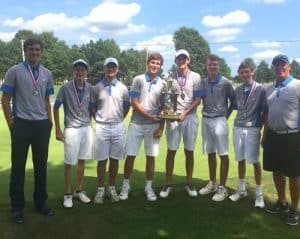 Monroe County is loaded with golf talent, and local high school teams are putting those skills on display to start the season.
The Columbia, Gibault, Waterloo and Valmeyer boys golf squads will converge at Annbriar this Thursday for the annual Monroe County Golf Tournament to see who earns bragging rights.
Columbia enters the county tourney strong after winning the 18-hole Okawville Invitational on Saturday. The team shot a 311, with four players medaling in the top 10. Andrew Wittenauer led the way with a 73, followed by Drew Harm at 77, and Brandon Harm and Drew Nowak at 80.
Last Tuesday, the Eagles defeated Red Bud on the back nine at Annbriar, shooting a 165. Wittenauer again led the way with a 37.
On Aug. 18, Columbia placed second out of six teams in the par 36 Goalby-Hass Classic at St. Clair Country Club. Kyle Steve led Columbia golfers with a 40.
On Aug. 17, the Eagles topped Breese Central on the front nine at Annbriar. Wittenauer led the way with a 37.
Waterloo has not yet put it all together as a team, although there have been some bright spots from individuals in the early going.
The Bulldogs shot a 184 at Highland Country Club on Monday, finishing behind Highland and Mascoutah.
The low medalist for Waterloo was Thomas Griffith with a 43. Ryan Stites was next with a 46, followed by Tre Wahlig at 47 and Sam Kreinberg at 48.
Last Wednesday at Westlake Country Club in Jerseyville, the Bulldogs defeated Jerseyville by 33 strokes, shooting a 167.
All four of Waterloo's top scores beat Jerseyville's best score.
The low medalist for all golfers was Ryan Stites with a 37. Tommy Carr and Kreinberg each shot a 43. Wahlig shot a 44.
The Gibault boys golf team is currently 9-0 in match play so far this season.
On Aug. 22 at Acorns, the Hawks won a three-team meet with Steeleville and Valmeyer, shooting a 178 on the par 36 course.
Gibault's Alex Dietz shot a 39 to lead all golfers. Dietz and Zach Heet, who qualified for the state tourney last season, are leading the team in the early going, both shooting under 40 on average.
"(We) have an added boost due to soccer player Ryan Gool playing with us," Gibault head coach Steve Bergheger said.
Gool will play his first match in Thursday's county tournament.
Carson Sensel led Valmeyer golfers in the Aug. 22 match by shooting a 42.
Other top golfers for Valmeyer this season are Cole Juelfs and Adrian Crossin.