Girl Scout alum captures history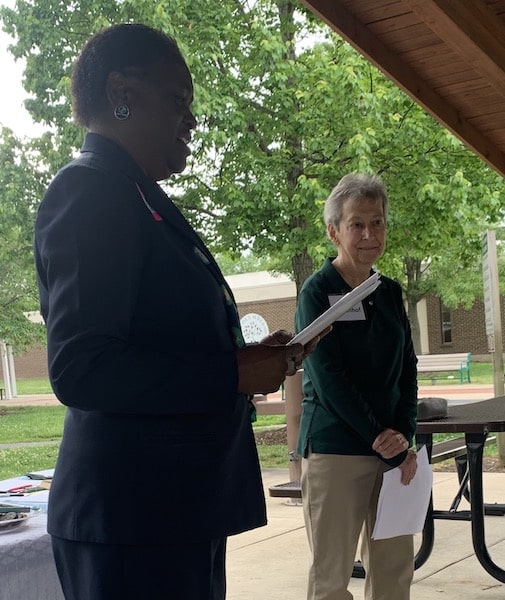 American scouting has a history now dating back over a century, with countless young boys and girls learning leadership as well as a myriad of other skills thanks to their local scout troops.
To capture a small part of that history, one woman has spent much of her time poring over archived newspapers with the recently achieved goal of organizing a book on Columbia's Girl Scout history.
Anne Haltenhof, author of "The First 50 Years of Girl Scouting in Columbia, IL – 1937-1987," is herself a former Girl Scout and expressed a great affinity and respect for the organization.
Haltenhof grew up in Columbia and spoke to her family's long history in the community, which she said she wrote about as a contributor to a book on the family's genealogy.
After graduating from Columbia High School, she received an accounting degree from Saint Louis University and proceeded to spend her career in banking, investing and other such roles.
Upon retiring in 2012, she was on the lookout for something else to do with her time and opted to offer whatever support she could to the organization that had so impacted her life as a young girl.
After a number of substantial donations to the Girl Scouts of Southern Illinois, she eventually caught the attention of the organization's CEO and was invited to serve as a board member.
That lasted for seven years. Just 10 days after her retirement earlier this spring, however, Haltenhof said the organization reached out to her again to ask if she'd like to work as a service unit leader overseeing Girl Scout troops in Columbia and other nearby communities.
She happily accepted, and is currently working toward her training for the position.
Within the last few years, however, Haltenhof found herself with a strong desire to look into the history of the Girl Scouts in the community she so loves.
"I'm interested in genealogy. I contributed to a book on the Haltenhof line," Haltenhof said. "From that, I thought it would really be nice to have something about the history of Girl Scouting in Columbia."
As this history dates back to the 1930s, recognizing this history would of course demand plenty of hours studying old newspapers documenting the local troop's activity through the years.
Haltenhof said her subscription to Newspapers.com came in exceptionally handy, as somewhat more primitive means would have made the already substantial undertaking even more difficult.
"Sitting in front of microfilm for 50 years' worth of publications was not feasible to me," Haltenhof said. "I don't have the patience for that."
Nevertheless, compiling all the information she needed for the book was still quite the feat. Haltenhof recalled checking out key words from year to year, copying articles that caught her attention before going back to scribble notes as needed.
She came across quite a few tidbits and anecdotes that stuck with her through the process. Among these was the tremendous amount of service projects the troop did through the 1940s and 50s – primarily in support of Red Cross work in Europe during World War II.
Similarly, Haltenhof also learned why the Girl Scouts have a tradition of handing out poppies for fundraising on Memorial Day. Poppies, she said, grew in the fields where soldiers fought in France.
She also became familiar with the rather charming story of how the Columbia troop got started, when a young girl attending a Bible study asked her teacher, Elizabeth Weinel, why the community didn't have any Girl Scouts.
Having stuck with the project, Haltenhof recently saw her efforts come to fruition with the first round of printing for the book.
Also recently, Haltenhof hosted a small gathering where she made copies of her book available to Columbia Girl Scout alumnae and troop leaders.
One event attendee was Loretta Graham, current CEO of the Girl Scouts of Southern Illinois.
Graham had high praise for Haltenhof and all her efforts, commending her for putting together a book on local scouting history as well as for all her other contributions to the organization.
"Anne Haltenhof is an investor," Graham said. "She invested in the future of our girls by investing each and every way she can in Girl Scouting. She looked at the history, and she said, 'I wanna bring that back.'"
Both Graham and Haltenhof spoke to the value of the organization that they've dedicated so much of their time to, with Graham saying the Girl Scouts' mission hasn't really changed since 1937.
"It remains to continue to build those girls and those leaders for tomorrow," Graham said.
Haltenhof spoke about why she started the project to begin with, also explaining why she has effectively dedicated her retirement to the Girl Scouts.
"I was a Girl Scout in grade school, so as I got older and thought about what I was gonna do when I retire, I wanted to give back to the Girl Scouts," Haltenhof said. "That whole experience meant so much to me as a child."
Currently, Haltenhof is working with her publisher in St. Louis to put together the second small round of 25 books.
Those interested in getting a copy of the book can contact Haltenhof at ahaltenhof@gsofsi.org.