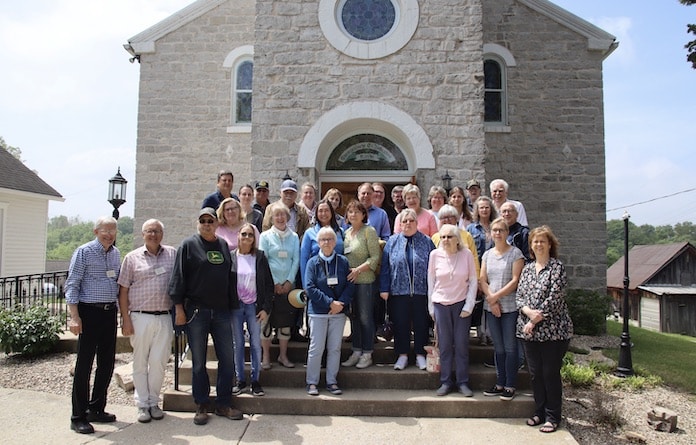 What began as an observation of tree dedication markers at a Mascoutah park in 2015 sparked a genealogical investigation which eventually led a group of German visitors to Monroe County.
On May 9, a delegation from Hassloch, Germany, came to Maeystown as part of a short trip to explore the whereabouts of their ancestors who came to the United States more than 180 years ago.
The group, which included American relatives, members of the Mascoutah Historical Society and Hassloch Deputy Mayor Lumas Gotz, was greeted at St. John United Church of Christ by community members and more than a dozen direct descendants of Jacob Rahn.
In 1842, Jacob, his wife Maria and son Wendel, along with several other families, emigrated from Hassloch – which was part of the Kingdom of Bavaria at the time before the unification of Germany in 1871.
After arriving in New York on July 5, the Hassloch families made their made their way to Southern Illinois.
Some of them stayed in St. Clair County while the Rahns and others eventually settled in Maeystown, Red Bud and surrounding areas.
According to Mascoutah Historical Society President Kathi Bell, the idea for the trip was born eight years ago when the Hassloch resident Walter Litzel visited his daughter Christine Smith, who lives in Mascoutah.
While strolling through Scheve Park, Litzel mentioned the names on memorial markers in the park were the same as family and street names in Hassloch.
Sometime after Litzel returned to Hassloch, he attended a historical society presentation about immigration to America.
Combining information from the presentation and his visit to Mascoutah, he discovered the connection between Hassloch and southwestern Illinois.
When he shared the findings with Smith, she began to inquire at the Mascoutah Historical Society in 2019 and began learning about the dispersion of the Hassloch families.
It took four more years to make the visit a reality.
In addition to travel restrictions imposed during the height of the COVID-19 pandemic, the historical society had more research to do before reaching out.
Since the international connection had only been recently realized, Bell said "it took a while to get information to become comfortable inviting people from Hassloch. We are still firming it up."
The German guests had a brief visit, but Bell said they "have plans to return. We crammed a lot into three days."
In addition to Mascoutah and Maeystown, the group visited places of genealogical interest in Belleville and Shiloh. They also toured the Gateway Arch in St. Louis.
The tour was scheduled to visit Horse Prairie just southeast of Red Bud, where Hassloch immigrants became some of the first members of Trinity Lutheran Church on South Prairie Road, but they were running low on time.
The German guests did get to spend some time at the Maeystown church earlier this month.
The group met at St. John UCC, where they were joined by Pastor Patrick Poole, Corner George Inn owners David and Marcia Braswell, and a group of Monroe County residents who have family ties to Hassloch.
David, switching between English and German, gave the visitors and guests a brief history of St. John UCC, and an overview of the regions Hassloch connection.
David is himself a Mascoutah native and a descendent of a family from the 1842 immigration.
His ancestors spent some time in Horse Prairie before returning to Mascoutah.
The other guests were mostly local descendents of William and Frieda Rahn, great-grandson of immigrant Jacob Rahn.
He noted the immigrants probably remained in the area because the landscape of bluffs and rolling hills reminded them of home.
David also explained the church continued using German language for ceremonies and singing well after many St. Louis area churches required all services to be in English during a rise in anti-German sentiment following World War I.
He credited the close-knit community for continuing the tradition.
"Everyone spoke German… and everybody knew each other," which eliminated the post-war suspicion found elsewhere, David said.
Marcia then demonstrated the church's pipe organ, which is reminiscent of those found in German churches.
The group was then treated to lunch at the church hall courtesy of the St. John UCC Women's Fellowship.
Joyce Kuergeleis provided attendees copies of the Rahn genealogy she compiled along with a brief history of the family from the time they left Hassloch.
After lunch, David gave a walking tour of some historical German sites in Maeystown.
While the trip was short, Bell said it was a success.
"Everyone had a good time," she said, adding it will likely be the first visit of many.
The group would also like to schedule a time for their American counterparts to come to Hassloch.
One member of the group remarked, "Our ancestors would be so impressed that we still remember them," Bell recalled.