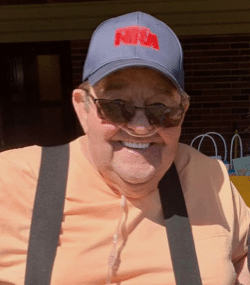 Several local children and their families came out to enjoy a beautiful afternoon of fishing Saturday as they competed in the annual fishing tournament at the Hecker Sportsmans Club.
While the event has been going for years now, it was renamed this year to the Jerry Mollet Fishing Derby in honor of the club's longtime secretary who passed away recently.
As Jerry's wife Diane described, he was a kind, passionate individual who had a tremendous enthusiasm for hunting and all things outdoors, particularly when it came to the organization he dedicated so much time to.
"The Hecker Sportsmans Club and its members were near and dear to him," Diane said. "They were a bunch of guys that got together, and they did special things for the community."
Diane offered a bit of insight into parts of Jerry's life. He served in the Air Force during the Vietnam War and was later stationed in Washington state for a time.
Upon returning home, Jerry spent several years doing automotive work before getting into his longtime job at Menard Correctional Center.
His main interest, however, was the outdoors. Diane emphasized just how interested he was in fishing and hunting, particularly raccoons and rabbits.
She recalled how, when she got home earlier than him, she would sometimes find his uncle at their house waiting for him so they could go out hunting for the evening.
Diane also recounted how he passed away the same weekend as the Hecker Fireman's BBQ and Tractor Show.
That Saturday, the two had attended a graduation party on her side of the family, and at the Sunday event, he was able to catch up with plenty of old friends and family members he hadn't seen for some time.
While Jerry's passing that evening was rather abrupt, he was, at least, able to enjoy one last weekend filled with family and friends.
Jerry was a member of the Hecker Sportsmans Club for 40 years, secretary for 36 years and oversaw the fishing tourney for 5-6 years.
Given his passion for the outdoors, the club and the tourney in particular, Diane said he certainly would have appreciated the honor of having the event named after him.
"He would have been so proud of the fact that they did that," Diane said. "I think Jerry was probably smiling down on the kids fishing as well as the guys who helped put that all together."
Jerry and Diane's daughter, Pam Poetker, spoke quite highly of her father, describing him as someone always looking to help.
"I think the most important thing to know is he was a giver, and that started way back when he was in the military," Poetker said. "Not only was he dedicated to the organization of the Sportsmans Club but the events and the kids. He did a ton for me. He did a ton for a lot of people. And he enjoyed that."
Poetker said the two of them were very close, with hardly a day going by where they didn't see each other or at least talk over the phone.
She also offered a bit more insight into his interests and life. Years ago, he would grow and sell blackberries, and he always enjoyed going out in the winter to gather pecans.
Poetker also described how he and other club members liked to think of themselves as bull-headed, but while Jerry and his friends might have acted tough, he was, deep down, a soft soul.
"He was a good soul, and since he's passed, I've had a super hard time with it," Poetker said. "But one thing that I've said is if I can do anything to honor my dad, it's to take care of my mom now."
Poetker described Jerry's personal involvement in the annual fishing tourney as well, from planning it to sitting with his grandkids all afternoon, baiting hooks while they reeled in the fish.
Monroe County Sheriff Neal Rohlfing, also a member of Hecker Sportsmans Club for several years, expressed his fondness for Jerry.
Rohlfing mentioned how he had the opportunity to hunt with Jerry on a few occasions, and he will be greatly missed among those in the club.
"He was one of the main instrumental members out there for a variety of reasons," Rohlfing said. "Obviously the fishing derby and his love for kids, especially his grandkids, and wanting them to learn the outdoors."
The fishing tourney held in his honor was, by all accounts, a great success, with beautiful weather and a hefty amount of fish gathered.
Diane was quite enthusiastic about how the event turned out, saying its success will hopefully get those young people involved with the club for years to come.
"There was a lot of young people. The Sportsmans Club, through the years they've had their young members, but it's kind of dwindled down," Diane said. "I think maybe it will spark an interest in some of the young kids. I mean, the kids had a ball, so I'm hoping that it continues and some of the youngsters maybe will eventually become members of the Sportsmans Club."